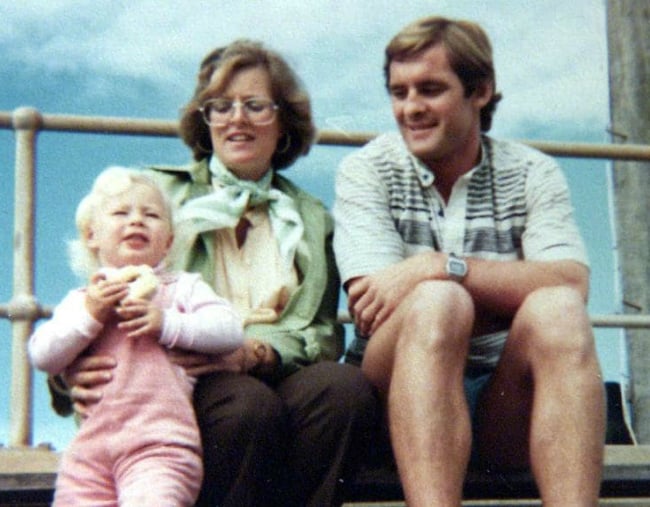 For 36 years, the family of Lynette Dawson, a 32-year-old mum-of-two who went missing in January 1982, have waited for answers.
Even after two coronial inquests found that Lyn's husband, Chris Dawson, had killed his wife, the Department of Public Prosecutions chose not to bring charges against him.
But this week, in the wake of the wildly popular podcast The Teacher's Pet, which explored new evidence in the case, police have started to dig at the couple's former home, searching for Lyn Dawson's remains.
The usually peaceful street in Bayview in Sydney's Northern Beaches is now busy and noisy, as the sound of power tools make their way to neighbour's homes. But for those who live nearby the house where the Dawson's once lived, the renewed interest in Lyn's disappearance has had an unexpected side effect.
For months, they've noticed more and more cars slowly making their way up Gilwinga Drive, stopping to take a close look at the property where a missing mother's body could lie.
"The last couple of months they drive up, go really slow at the house, and do a U-turn and come back down," Judy Brown, who lives opposite the former Dawson home, told ABC.
Another neighbour, Monique Carroll, said she's "seen so much more traffic, a lot of drive-bys, cars driving really slowly in the street, looking either side, working out that it's that house".
Hedley Thomas shares the inside story of The Teacher's Pet.

Speaking to Mamamia, Lyn Dawson's niece Renee Simms said she can "understand that people would be interested to see… where this story is based".
Renee, who is the daughter of Lyn's brother Greg, said her main concern with the current media attention is "for the people who are currently living there".
"They didn't ask for this," she said. "They didn't know about it when they moved into their property. So my main thought would be with them, because they're getting a lot of attention that they didn't ask for."
It's an unexpected side effect of the fascination with Lyn Dawson's disappearance – that the place she once lived, and may have died, is now an attraction for true crime fans.
But for Lyn's family, the attention around the case is welcome.
Renee Simms acknowledged that Hedley Thomas' podcast put pressure on police, such that they "have to be seen to be doing something".
"So many people are invested in this story now," she said.
"Maybe a dig would have happened at some point in the future, but without the podcast, I don't think it would've happened this quickly."
Speaking to The Australian, Greg Simms said the new leads that emerged from Hedley Thomas' investigation may play a pivotal role in bolstering the case against Chris Dawson.
On Wednesday, Detective Superintendent Scott Cook told the ABC police would pursue charges against Chris Dawson regardless of the outcome of the dig.
"It's the right time for us and for them," he said.
Meanwhile, Renee Simms and her family remain "quietly hopeful" about what will be found in the coming days.