Guys. 
Excuse us for a moment, but Tracey sent nudes. To Visionz. 
And then they breezed over it like nothing even happened AS IF WE WOULD FORGET.
But we shan't ever forget.
We know Sean heard this news, began spasming uncontrollably, and shouted, "YOU DON'T TRACEY F*CKING TELL DON'T TRUTH LIE MATE," because he couldn't quite get his words right, then violently attacked Dean and whispered in his ear, "Listen here, Visionz. She's my Cyclone Tracey now."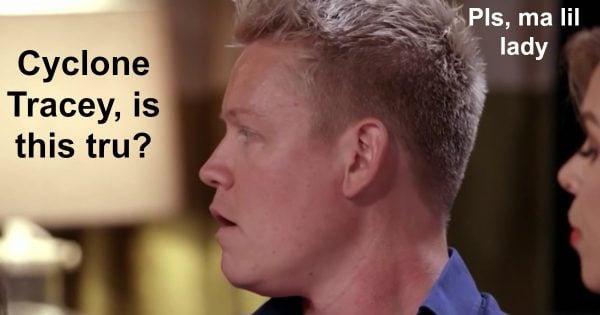 They think we couldn't have handled that level of violence at 8:15pm on a Wednesday night.
But, oh, we could've.
***
We open on... look we don't know what the purpose of this... gathering is exactly, but the sole purpose is to Blow. Shit. Up.
The experts decide to present all the couples with a montage of everyone's weddings and ffs don't you even dare fill this episode with flashbacks when we know there are people in this room who have THINGS they need to YELL.
We are then subjected to a lengthy package of Carly and Troy humping/licking the inside of each other's mouths, which is a clear attempt to make Ashley as angry as possible.
It works and we are very pleased.
Clare and Jessie discuss the fact that Davina is actually incapable of being sorry on tonight's episode of MAFS Chat. Post continues after audio.