Oh goodness.
Ashley and Troy have been given a DVD pls and Troy definitely doesn't know what he's meant to do with it so places it carefully in the oven and presses 'on'.
No, Troy. 
Ashley salvages it, and follows the explicit instructions that say to put it in the DVD player.
We want it to be footage from BOIZ night, but instead it's their stupid wedding video ffs and WE WERE THERE WE SEEN'T IT.
But Troy cannot at all handle that he is on the television. He keeps pointing at himself and yelling "That guy up there is ME. That's ME," and he doesn't at all understand how he can be sitting on the lounge but also in the square box in front of him, at the same time.
Ashley, however, is less excited because she understands the logistics of a video. She feels nostalgic because she remembers when she experienced emotions like 'hope' and 'joy', but now she's just chasing Troy around taking household items out of the oven.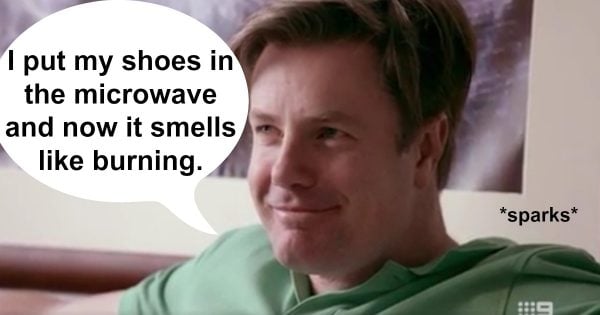 "It was my fairytale wedding," she reflects, and Troy says, "we can do it again," and Ashley's face says a firm "f*ck no never" and, yes, well, that's settled.
Over at Dean and Tracey's apartment, Dean says aggressively, "I've got a very big day planned... very romantic," and we don't want to... go.
Tracey is very impressed at how well Dean can keep a secret, and he says that comes in handy when he's doing a cheat and doesn't want her to know about it.
They watch their wedding video together, and Tracey cries because she remembers how Dean explicitly promised during their vows to be loyal/honest/respectful etc., yet it took him nearly three weeks to come clean about actually being a white rapper named Visionz who doesn't at all know how to tie his shoelaces on his own.