WE ARE SO HAPPY WHAT THE HELL WE DID NOT SEE THAT COMING.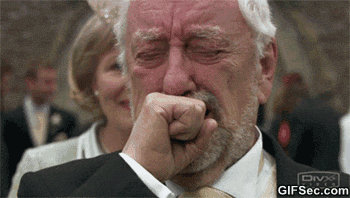 Sorry. Let's start at the beginning.
***
Holy NO Osher is SO excited for the finale of Bachelor in Paradise. 
He starts yelling the words "ENGAGEMENT RING" but Osher, pls, there is no suspense here. Surely it's Grant who proposes, because proposing to someone after only a few weeks on reality television is a distinctly un-Australian thing to do.
We begin with Sam and Tara clearly waking up in a fancy bungalow together and goodness our grandmother would be horrified by the sexual implication.
They seem nervous about the commitment ceremony which we don't 100 per cent understand because you can just commit now and break up when you get home, it's not really that big of a deal but okay.
Meanwhile Ali and Grant are humping in a spa that clearly Osher forgot to clean and now it's green and full of disease. We can actually see the moment they both contract cholera and start diarrhea-ing and it's uncomfortable because they're not at that point in their relationship yet. It's all very dramatic.