No.
Osher has made an error in judgement and we shan't be covering for him any longer.
We haven't wanted to say it, but it's quite obviously wet season in Fiji. Also known as 'typhoon season'.
We know this because we googled it – a precaution Osher clearly did not take.
We're not mad. It's just that we were promised paradise, and what we got was a bunch of drunk people on a holiday at the wrong time of the year.
Listen to the latest episode of Bach Chat with Michelle Andrews and Zara McDonald. 
We begin with Lisa and Luke discussing last night's rose ceremony on a revoltingly overcast beach. Lisa says she has no feelings for Michael which sounds like something she should probably tell Michael at some stage but okay.
STOP PLS.
It's American Jared and someone gave him a date card to read out so he could feel included which was kind.
Eden gets the date and chooses to take Elora. They spend about three minutes sand surfing (?) on flat land before realising it's not a thing and Osher just wanted to make use of two abandoned boogie boards he found by the side of the road.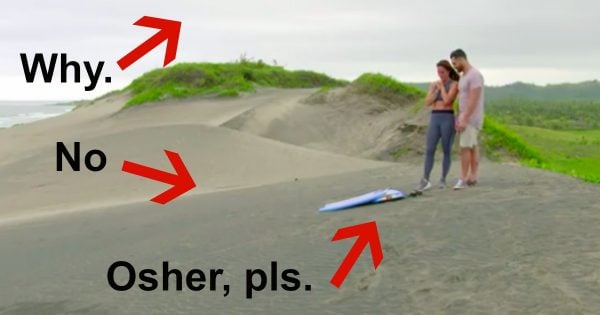 Somehow sitting on second hand boogie boards, while simultaneously feeling terrified it's about to rain doesn't inspire lust in Elora and she just starts yelling at the camera, "I'M NOT ATTRACTED TO HIM."
Eden decides the best thing to do when a girl clearly doesn't like you is to throw food in their eyes and says: "At the end of the day who doesn't love a food fight?"