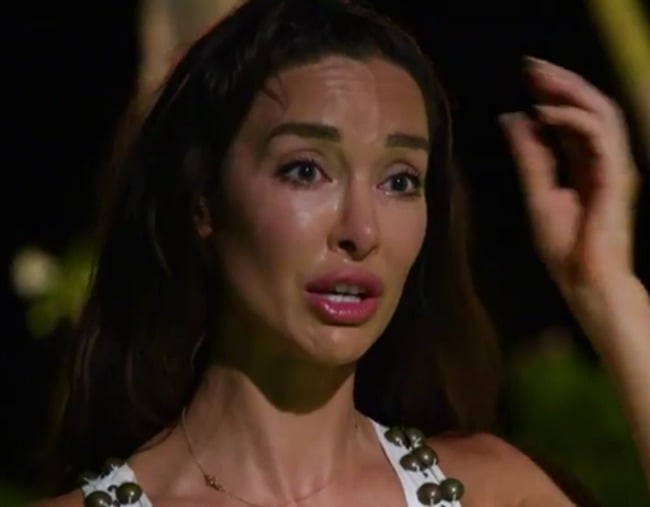 We open with a reminder that last night, Laurina chose American Jared to stay for no reason, and today everyone's celebrating with a game of 'Ali-throws-a-ball-in-her-bikini-and-all-the-men-try-catch-it' in the pool.
But there's a problem.
It's Red Jarrod.
He's turned purple.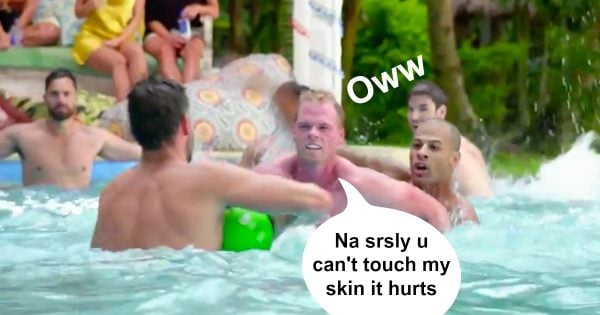 Channel Ten seriously has a lawsuit coming because we just know a few months from now, Jarrod is going to be aggressively stomping on grapes at the vineyard when he discovers he is no longer a man but a skin cancer, and needs to get the organ that is his skin removed permanently.
But none of that matters, because Jarrod has decided he's going to flirt with other people and no pls we can't do this again it's simply too exhausting.
Speaking of exhausting, it turns out last night Leah tried to hook up with Michael and he RAN AWAY. He is now the fourth person to reject her in two weeks and this is easily the most honest representation of dating we've seen on television.
PAUSE.
Elora has arrived and no she's not wearing pants.
She has a date card but it's awkward because pretty much everyone is taken except for Jarrod and she's worried she's going to catch whatever he.. has.