Jake is broken and honestly we don't blame him.
He cannot understand why Osher would steal his girlfriend and force her to go on a date with a man who had already been eliminated.
It seems random but also… petty. Osher's pissed about something and no one knows why and now he's making up new rules for no reason.
Megan feels bad because Osher forced her to kiss Tom in the ocean surrounded by sharks, and now she has to tell Jake about it.
She's decided that even though Jake lacks depth, she prefers him to Tom, who isn't… funny… and omg so true.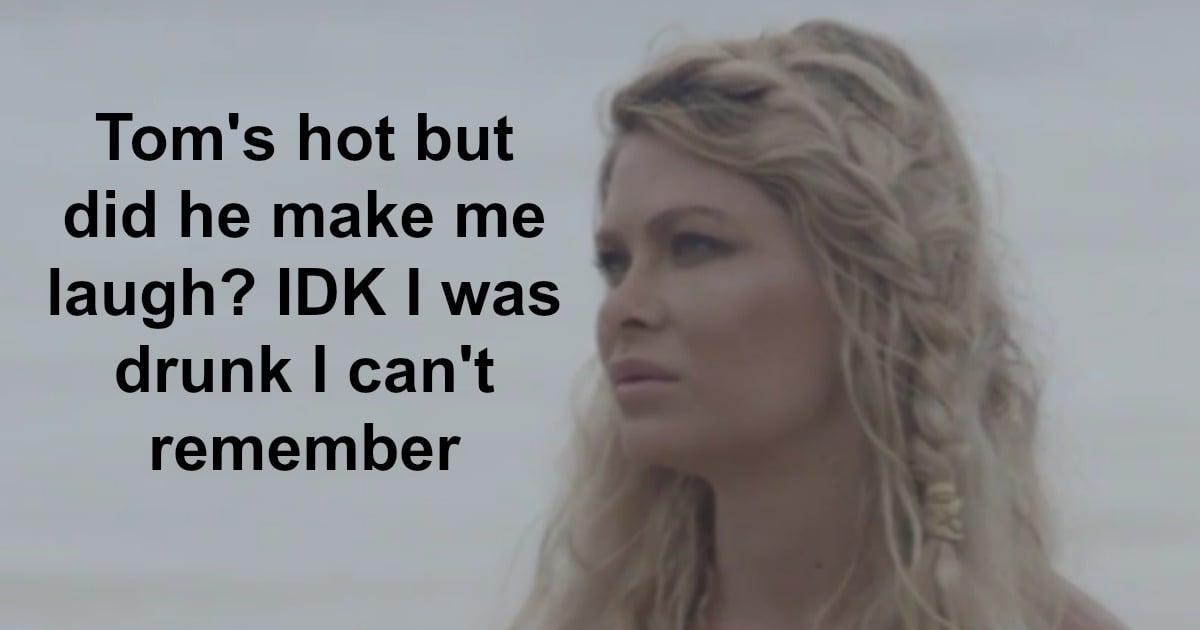 She takes Jake aside to tell him that despite Osher intentionally trying to derail their relationship, she's still keen, and soz about doin' a cheat didn't mean it etc.
Then, she has to speak to Tom about the fact that while, yes, they did mutually hump less than 12 hours ago, and yes, he's not allowed to return to Canada until he successfully ruins someone's relationship, he's kinda boring and she doesn't like it.
PAUSE.
Leah's threatening to leave paradise because American Jared won't let her ruin his relationship/happiness and she thinks it's bullsh*t.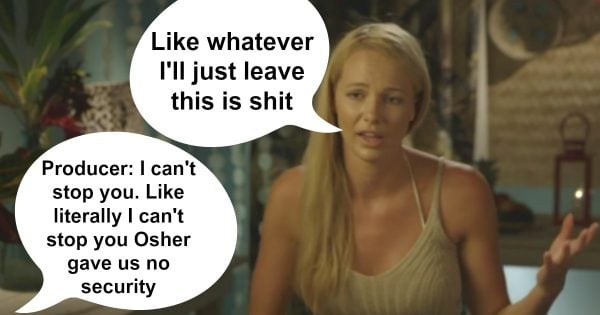 BUT LEAH WHY DON'T YOU JUST LEAVE THERE LITERALLY ISN'T EVEN A DOOR YOU JUST WALK OUT AND BOOK YOUR OWN UBER WE'RE PRETTY SURE THERE IS NO SECURITY OSHER RAN OUT OF MONEY.
Leah is telling a producer how seriously she's considering leaving, and the producer is full like, "dude do what you want I'm hungry why you telling me."
You see, the producers have stopped caring.
Osher has stopped caring.
Most of paradise has stopped caring. Except for one person.
Keira's pissed because Leah is disrespecting the privilege of free alcohol and there are some people who have to pay for their alcohol, Leah, do you not understand? 
She keeps yelling, "GO HOME ALREADY," because she only wants people here who are as passionate about getting drunk before breakfast as she is, and fair enough.
One producer who has mentally but also spiritually checked out of this whole process suggests they give a date card to Rachael, so Leah will lose her shit and actually leave.
"I'm sorry but threatening to leave simply isn't good television," we hear them say. "We need her to actually leave, and vomit but also punch someone on the way out. And then say 'f*ck you' to Osher...."
Rachael takes American Jared on her date and honestly can you imagine how humiliating it would be to be universally referred to as American Jared?
Michelle Andrews and Zara McDonald unpack tonight's episode of Bachelor in Paradise. Post continues...
Some Fijian locals are making kava for them and Rachael keeps asking a) why they're mixing dirt in the water and b) if they've used hand sanitiser.
You are... so white Rachael. So white.
Upon being presented with kava, the national drink of Fiji, Rachael shrieks, "IT'S THE DIRTIEST DIRT WATER I'VE EVER SEEN," and look we're not experts but we're pretty sure that's not what you're meant to... say.
She didn't like it and no she would not like any more.
Back at schoolies, Grant is telling Ali he loves her now and Ali says, "I would die for this person."
Okay, no.
Wais seriously has to pause service on the drinks for like three hours while people take a moment to gather themselves. 
SHHH STOP.
Osher is wearing a suit with a Hawaiian shirt and this should be illegal.
There's a rose ceremony tonight, and we don't know why Osher always has to tell everyone in person couldn't he just leave a note UGH.
Leah has decided that fine she'll stay, but only if American Jared gives her a rose. Which he has no intention of doing.
He wants to give his rose to Rachael because they bonded over the dirt water and now he semi-likes her.
But, no. 
Ever since Jared has appeared moderately happy, Leah has felt a deep instict she simply cannot ignore: You. Must. Ruin. Things.
So she tells everyone Jared is definitely giving her his rose. That's what he said.
Given that's a... lie, people get real mad real quick. Then comes the quote of the season:
"We don't want to be involved in the gossip." Keira Maguire, 2018.
But before Keira's even finished that sentence she's started yelling at Jared, "SHE'S MANIPULATING YOU," and when Red Jarrod tries to intervene she pats him somewhat aggressively and says, "NO SHUSH JARROD YOU DON'T EVEN KNOW WHAT'S GOING ON," and suddenly we completely understand their relationship.
As a side note, yeah American Jared got randomly hot, and yeah we noticed.
IT'S THE ROSE CEREMONY PLS.
Oh. It's Russell Brand and we don't know who he's going to give his rose to.
He chooses Rachael which makes less sense than Osher in his Hawaii-inspired-suit, and now EVERYONE has been thrown.
Jared has no idea what to do, so ends up giving his rose to Leah which he most definitely regrets the second he does it.
HOW IS LEAH STILL HERE?
UNTIL NEXT WEEK.
You can follow Clare and Jessie Stephens on Facebook, or join our Bach in Paradise Lols Facebook group.
Read all our recaps, right here:
Ep 11: The Twins recap Bachelor in Paradise: IT'S A CHEATING SCANDAL. 
Ep 10: The Twins recap Bachelor in Paradise: A prank goes horribly wrong. 
Ep 9: The Twins recap Bachelor in Paradise: A very X-rated fight.
Ep 8: The Twins recap Bachelor in Paradise: Michael just went rogue and everyone cried. 
Ep 7: The Twins recap Bachelor in Paradise: Laurina just stormed out. 
Ep 6: The Twins recap Bachelor in Paradise: The most revolting Bachelor in history. 
Ep 5: The Twins recap Bachelor in Paradise: 'It wouldn't be appropriate to give you my rose.'
Ep 4: The Twins recap Bachelor in Paradise: Jake is a goddamn snake.