We begin with a very excited Osher telling us there's going to an 'American invasion,' and Osher, pls, two contestants from the US Bachelorette, one of whom is actually Canadian, hardly constitutes an invasion.
Unsurprisingly, Laurina is pissed because at the last rose ceremony, Blake tried to give his rose to Lenora, a person who does not exist. It's sad for Blake, because he has fallen in love with Lenora. It's also sad for Blake because someone did his hair as a joke but the joke hasn't been included and now he just looks like an idiot.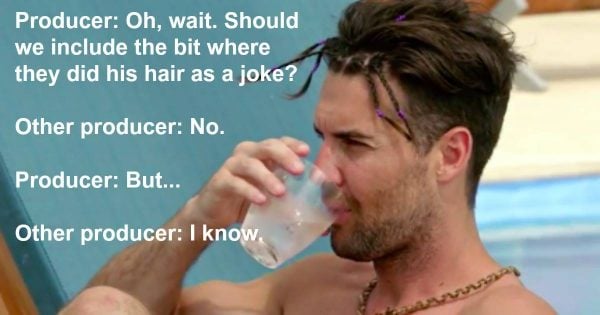 But EXCUSE US it's time for the invasion now and Osher is just letting the Americans in warmly which we're pretty sure you're not meant to do when there's an invasion but... okay.
Osher welcomes Grant, who was allegedly on the US Bachelorette and Bachelor in Paradise, and it doesn't matter how much of a backstory we're given we will always be lacking context.
Apparently he got engaged on the US season of Bachelor in Paradise which seems like a bizarre thing to do after a four week holiday.
"I trust the process," he tells Osher, and WHY THOUGH.
We recap last weeks awkward rose ceremony where Blake called Laurina the wrong name. Post continues after.
We're skeptical, and then Grant calls Osher 'sir' and... no. That's not... He's not your... sir.
As soon as Grant enters paradise, he decides to speak to the men to find out who owns who, which is respectful if not entirely f*cked up.
But Jarrod's being territorial, not least because by comparison this man makes him look particularly pink which Jarrod does not at all need right now, and WHY didn't Osher make him wear his hat and rashie today honestly this is becoming distressing to watch.
On behalf of Australia, Keira decides to troll Jarrod and asks, "do you tan?" to which he replies, "Yeah I do," and holy f*ck this man is a very sunburned liar.