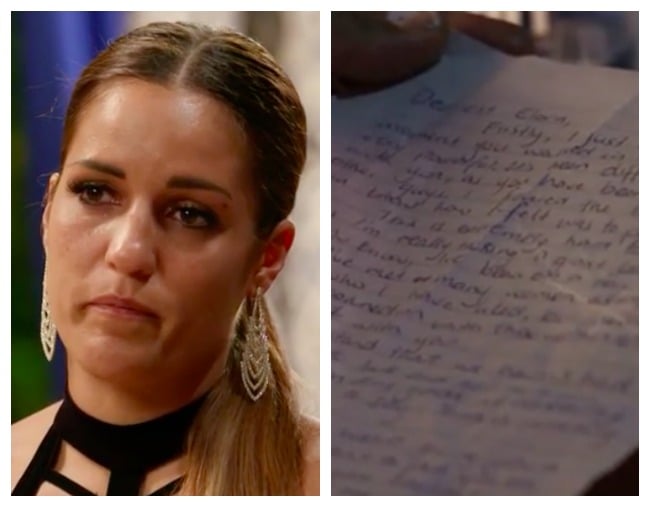 Channel Ten has been doing some teasin'.
We know three people leave paradise tonight, and the ads keep asking us: IS IT KEIRA?
But… no.
To be clear, Keira has never been happier than she is in paradise. She's living off a liquid diet made up exclusively of mango daiquiris, has a Jarrod whom she owns, and gossip at her fingertips at all times.
Keira lives here now. She is never going home.
We begin with some riveting conversation which involves Michael asking Megan whether she thinks Lisa will give him her rose, and Megan awkwardly saying, "oh um… no, definitely not" but it's quickly interrupted by one of Bachelor in Paradise's favourite tropes: the ominous bird.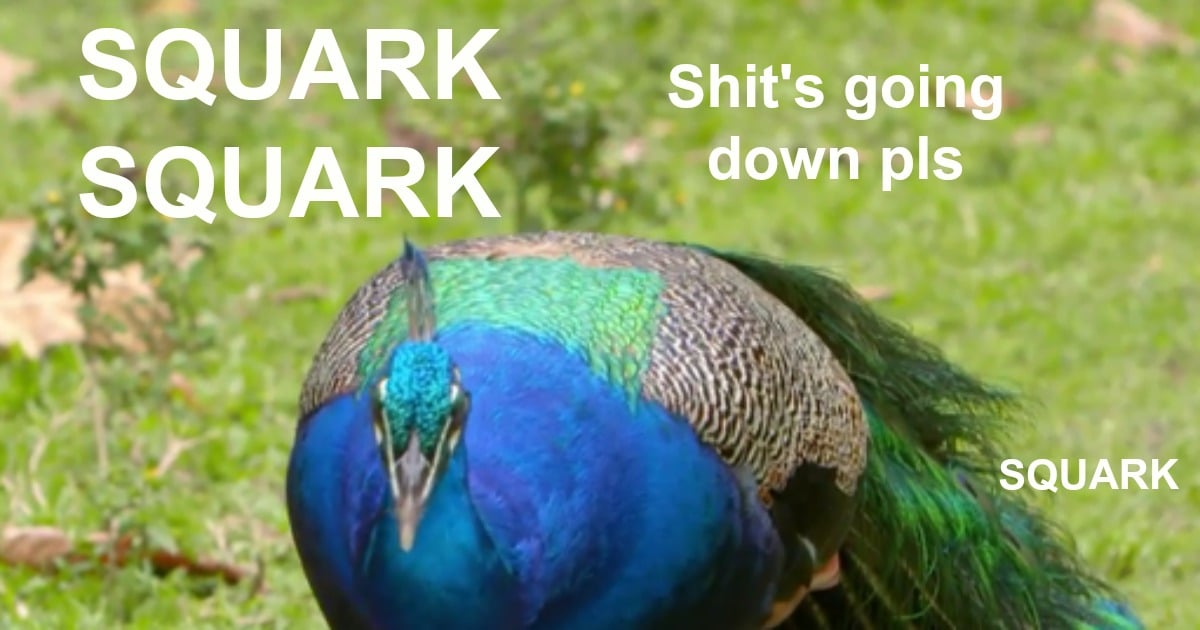 A rogue bird that just definitely isn't native to Fiji emerges out of the bushes and starts charging at the camera. He squarks aggressively, and he's obviously telling us there's a new Canadian about to arrive and he's probably going to stir some shit.
Without introduction from Osher, who is deep in important bird-training, Tom from The Bachelor in Canada arrives.
At first, we're annoyed. We already have an anonymous foreigner so we're not really sure what purpose of Tom... is. But he asks to speak to Megan, and straight away she decides she likes him better than stupid Jake, which feels like a huge call to make after three minutes but okay.
Listen to the latest episode of Bach Chat. Post continues. 
Keira also mentions that Tom is her type but NO KEIRA YOU ALREADY HAVE A JARROD AND YOU SHAN'T DO THIS TO HIM AGAIN. YOU SHAN'T.
Michael decides now is probably a good time to pull Lisa away for a chat about his feelings, and we've personally never seen two people sit further apart.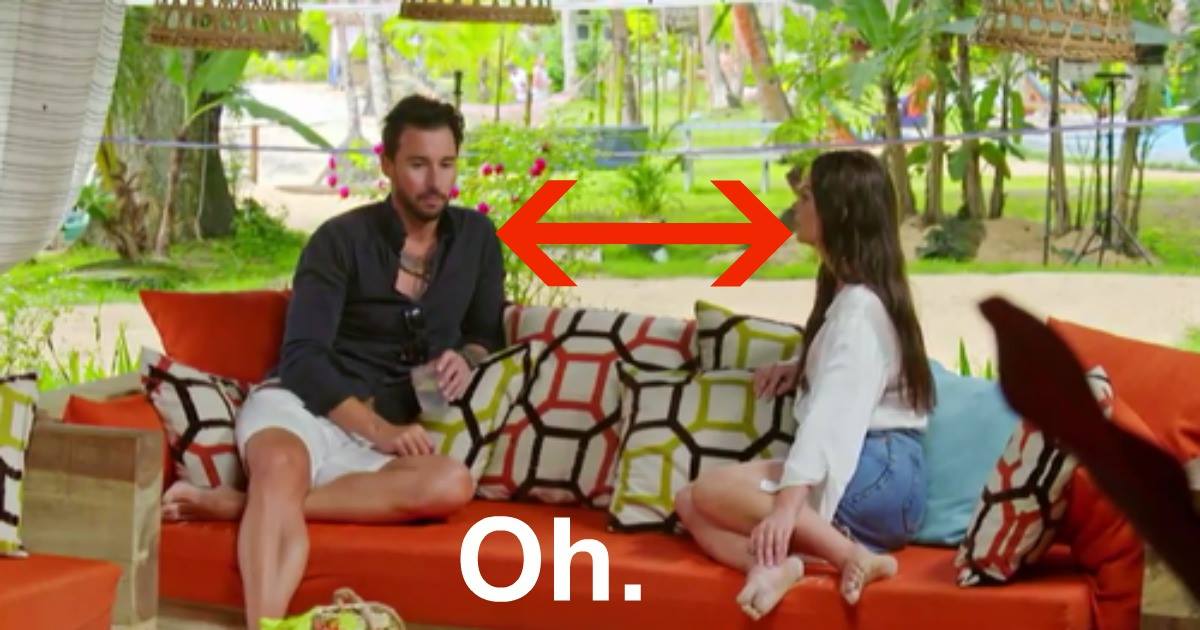 Lisa says, "oh, honey no," and Michael immediately decides he'd like to go home now. We think maybe he's just being dramatic but then a producer asks says, "really?" and Michael says, "ye," and he's just GONE.
... Cool.
Oh. Now Lisa wants to go home and we cannot for the life of us understand why.
Apparently she has stuff to do which sounds like a lie, and thinks she and Luke should both leave their free holiday to continue their relationship on the 'outside' which is straight up the worst idea we've ever heard.
Luke starts crying because he wants to see who wins Apollo, and says to Lisa through tears, "But... I want to see when Simone hits Elora. Isn't that important to you?"
Of course it's important to Lisa, but honestly they've been in a dirty nightclub for upwards of 14 days now and Keira has started brushing her teeth but also showering in mango daiquiri. It's confronting.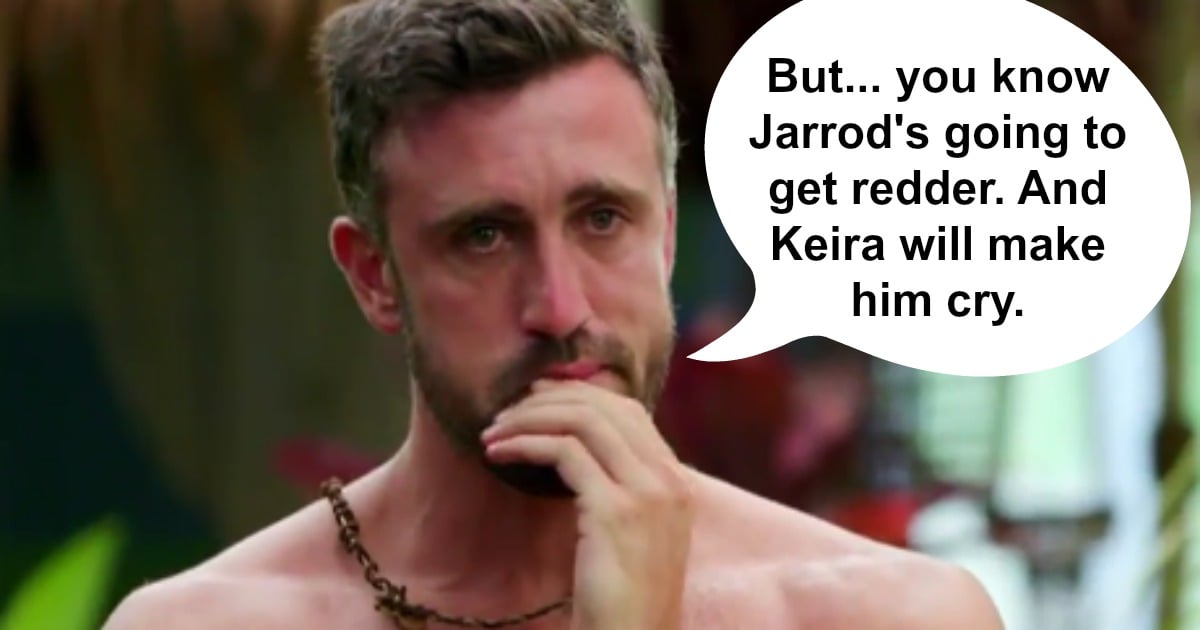 Pause.
WHY IS EVERYONE LEAVING.
YOU CAN'T JUST CHOOSE TO LEAVE OR CAN YOU OSHER NEVER REALLY SET ANY RULES BUT WE FEEL LIKE LEAVING IS DISRESPECTFUL TO OSHER'S GAME THAT HE BUILT WITH HIS BARE HANDS.
Luke and Lisa cry, it's still f*cking raining, and they both choose to go home and pursue their relationship without us there to watch which seems rude AF.
Back at the... bar, no one seems to notice there's been a mass exodus and literally nobody even said goodbye??
Elora gets a date card and everyone acts as if there's not THREE LESS PEOPLE IN THE GROUP AND MICHAEL WENT HOME BROKEN.
She chooses Apollo and Simone is mad because obviously Simone is allowed to steal Apollo off Elora but it's totally inappropriate for Elora to steal Apollo off Simone.
Wais the bartender, who is bored out of his f*cking mind, is now just trying to start shit, and asks Simone: "Did he talk to you when he made his decision?"
No, Wais. No he didn't. He just left.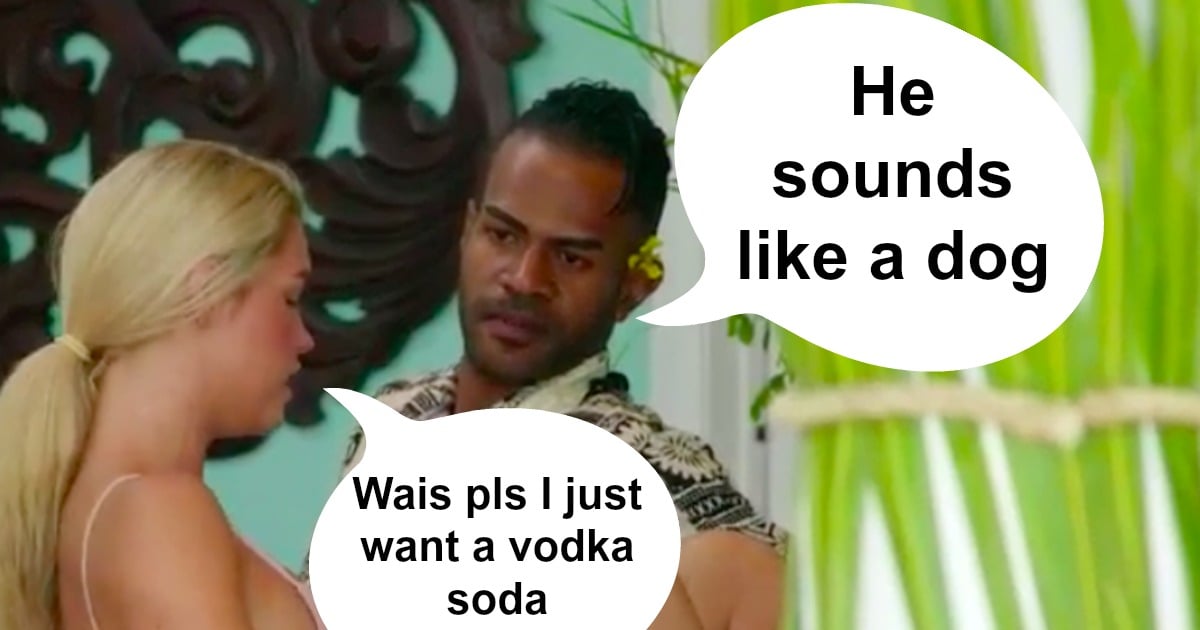 Apollo and Elora dine outside in the rain which looks awful, and Elora says she's ticked every box he's mentioned, including a) likes magic b) likes Apollo and c) likes Apollo doing magic.
Simone has somehow enlisted Tom to sit in silence and listen to her bitch about Elora because everyone else has had enough now pls. He doesn't know what an 'Elora' is but he knows it sounds bad.
But none of that matters, because now it's time for Tom to choose who to take on his date.
He immediately asks Megan, and even though she, um, literally said she liked Tom more than Jake, she says no.
Then Leah says no.
And Simone says no.
And honestly, if this man can't get a date then what hope is there for any of us.
He sits alone in the rain contemplating the fact that literally no one on this shitty island wants to spend any time with him, when he's approached by a kind (red) stranger.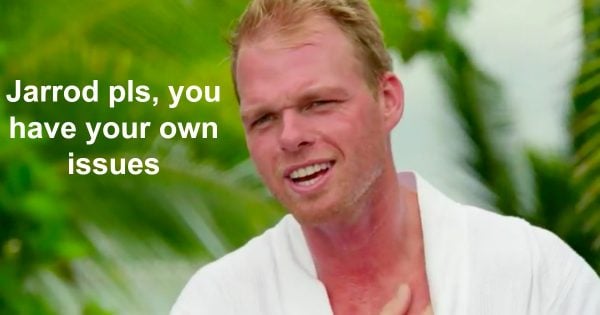 You see, Jarrod knows what it feels like to be rejected over and over and over again. So he tells Tom he will be going on a date... with da boiz.
Jarrod, Tom, Apollo and Sam go to a secluded beach, which is set up with a bath tub (a Fijian family have just definitely had their bathroom torn apart by Osher) and it's all very romantic.
But GOODNESS. Elora received a love letter pls.
She tells the other girls American Jared left a beautifully written love letter on her bed, about how he's had strong feelings for her ever since they met. Elora liked it very much.
But there's a complication.
When Ali asks Jared about the letter, he has absolutely no idea what she's talking about.
Oh Jesus Christ.
Jared did not write that letter.
Grant and Ali confront everyone about the prank, and determine that the culprit was none other than Eden. 
First he threw food in her eyes. Now he is making her look like a fewl.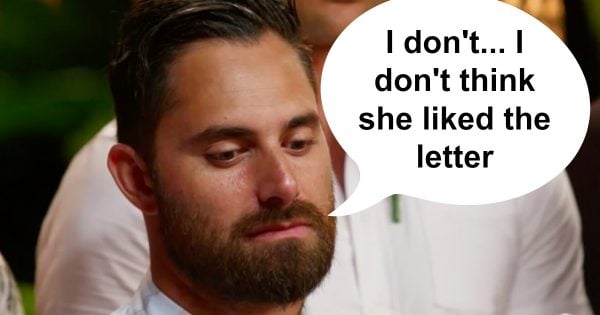 Eden, pls. This is not how you make a woman like you.
Elora loses her shit, as she should.
IT'S THE ROSE CEREMONY and surely Eden is going home.
Elora is given the choice between Thomas and Eden, and for some ridiculous reason chooses Eden, sending the Russell Brand lookalike home.
What a shame. We liked his face.
UNTIL TOMORROW NIGHT.
You can follow Clare and Jessie Stephens on Facebook, or join our Bach in Paradise Lols Facebook group.
Read all our recaps, right here:
Ep 9: The Twins recap Bachelor in Paradise: A very X-rated fight.
Ep 8: The Twins recap Bachelor in Paradise: Michael just went rogue and everyone cried. 
Ep 7: The Twins recap Bachelor in Paradise: Laurina just stormed out. 
Ep 6: The Twins recap Bachelor in Paradise: The most revolting Bachelor in history. 
Ep 5: The Twins recap Bachelor in Paradise: 'It wouldn't be appropriate to give you my rose.'
Ep 4: The Twins recap Bachelor in Paradise: Jake is a goddamn snake.