Yes, well.
We've had a profound realisation about Florence.
You see, the confusing thing about Florence is that while she might look like a 25-year-old laid back, bohemian, blonde, beachy, foreign woman, she has the precise personality of an angry and world-weary 89-year-old Russian woman who lived through the famine of 1921 and has had enough of your bullshit.
So while men are expecting her to be agreeable and bubbly, they're left perplexed as to why this conventionally attractive woman with 70,000 followers on Instagram only wants to talk about a) the war b) how she didn't eat for a decade c) how much she hates Jake.
It disarms people, and this is why we like Florence very much.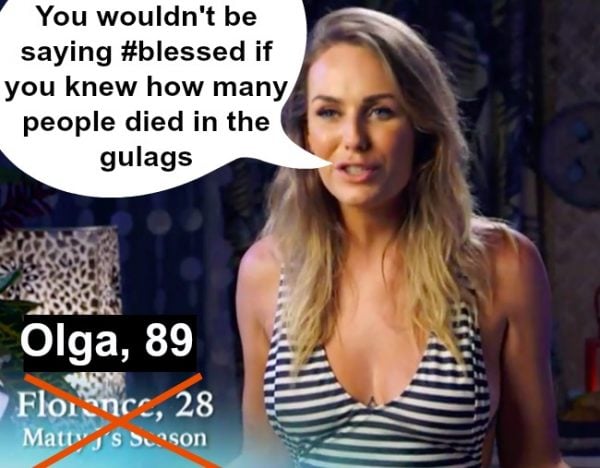 She spends the first 15 minutes of tonight's episode regretting her decision to keep Jake, given that she hates him. All she does in paradise now is discuss specific traits of Jake's that are stupid with her friend Nina, which would be fine, except none of this gives you a rose, Florence. 
Speaking of barking up the wrong tree, Keira decides to take Michael on a date, even though LESS THAN A WEEK AGO she was literally YELLING about how passionately she hated his teeth for no reason.
Meanwhile, Luke has randomly decided to start shit because no one ever pays any attention to Luke. He tells Tara that maybe Michael should've said bye to her before he was forced to go on a date with Keira, which sounds petty but okay.
Feeling rejected, Tara forms an unexpected friendship with Sam and no.
She won't stop laughing even though nothing is funny, and WHY doesn't she remember when he referred to Sophie Monk's boobs as cans. WHY.