Yes, well.
Something deep in our souls tells us that Daniel has, in his past, committed a very bad crime. And he keeps going on Bachelor in Paradise to avoid prosecution.
We cannot specifically say what we think that crime might be because that's frowned upon/legally precarious but that man has at least 11 bodies under his house and we know that to be true.
We've not yet recovered from Daniel moaning at Keira last night, "You're a bad gurl," while sweatin' a little bit, which is not a thing anyone outside that situation should ever have seen. But tonight, Daniel is trying to be sexy again, telling Keira, "I'd have sex with you right now," and ew Osher wouldn't like that.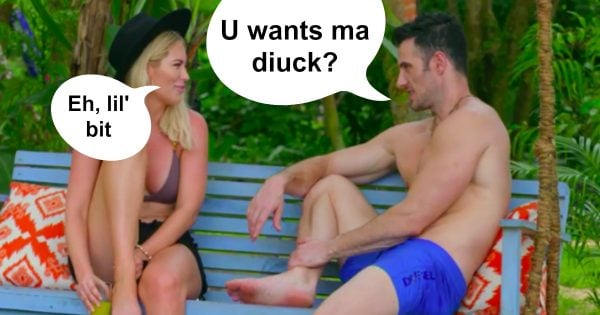 Daniel then asks Keira if she's "physically attracted" to Jarrod which is... mean.
In case you were wondering, Jarrod's coping really well with watching this weird sex-talk-at-10am thing going down.
He says that the women in paradise are hiding under rocks (?) and the American men are finding them under those rocks and he hopes all of the Americans get the next boat out of here but that the boat has big holes in it because then the boat will sink which means they'll drown and therefore be dead and Jarrod's sunburn has infiltrated his brain a little bit and that's okay.
Understandably, everyone is becoming increasingly worried about him.