Tonight, we open with culturally inappropriate Fijian music, and realise how quickly we've become accustomed to white people being drunk always while on an island in the South Pacific that is not at all theirs.
It turns out that when Laurina left paradise last night she didn't say bye to anyone and we've never had more respect for a person on reality television.
GURL.
She doesn't give a single f*ck and that is why we will love her AND her gold eye mask thing which we plan on buying because they look classy AF.
Anywho, everyone is getting sick of Jarrod and Keira who keep going through dramatic breakups despite the fact it would appear they have never once dated.
And by that we mean Keira keeps breaking up with Jarrod even though they're not together and we don't know how… it's completely remarkable.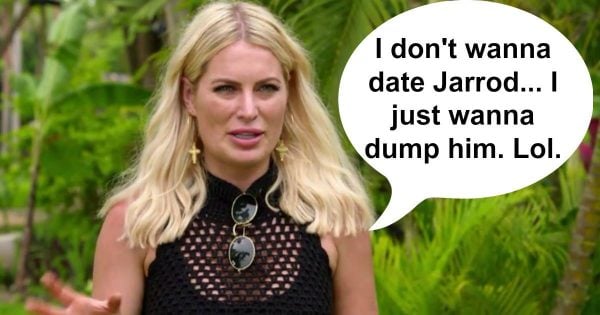 She tells the camera that she did like Jarrod she just found him a little intense and noo really, surely not Jarrod?
Keira takes him aside to dump him... again... and Jarrod is shocked like he always is and we cannot with this story line anymore.
Suddenly, a date card appears and Simone unsurprisingly chooses Jarrod to spend the day with. Jarrod then promptly does this weird dance we've never seen before in our lives and THIS IS WHY. HOW MANY MORE TIMES DO WE NEED TO SAY IT, JARROD.