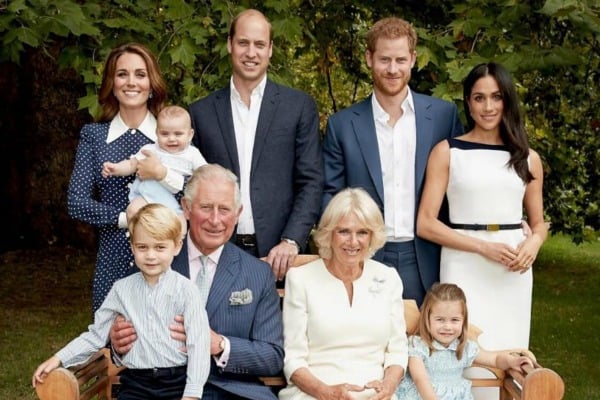 To catch up on all things royal family, make sure you check out our Royal Hub. We've got you completely covered.
If you're a staunch monarchist (or, let's be honest, anyone with a mild interest in the Royal Family, AKA a human) and you're feeling a bit… tired as the end of 2018 looms, we understand why.
It's been a big year for us.
The world has been captivated by every murmur coming out of Kensington Palace for the entire year, and they certainly gave us a lot to talk about (and no, we're not referring to the ~feud~, which may or may not be a whole load of codswallop).
For the first five months of the year, we spent our downtime scouring the internet, sniffing out every detail of Prince Harry and Meghan Markle's wedding, lapping up the news that broke literally any time the now-Duchess stepped outside.
A third royal baby, Prince Louis, was born in April, a second royal wedding happened in October, and oh, just three days later (the hangovers had barely subsided) it was announced Harry and Meghan were expecting their first child.
This was just as they set off on their 16-day royal tour of Australia, New Zealand, Fiji and Tonga.
Phew.
No wonder this last week at work feels like it's been going for 49 years.
Here, we've rounded up the best royal moments of the year, in no particular order.
Behold:
Prince Louis' birth.
Kate Middleton and Prince William's third child – the fifth in line for the royal throne of England – was born on April 23, 2018 at St Mary's Hospital in Westminster, London.
His full name is listed as His Royal Highness Prince Louis Arthur Charles of Cambridge. Quite the mouthful.
The baby was born at 11.01am and weighed 3.8 kg. Prince William was present for the birth in west London, where their other two children, Prince George and Princess Charlotte, were also born.
Just hours later, the Duke and Duchess of Cambridge presented the baby to the world on their way out of the Lindo Wing.
"Thrice the worry now," Prince William told reporters, holding up three fingers with a smile, as he got into a Land Rover to take his wife and newborn back to Kensington Palace.
Too cute.
Just look at the sweet baby prince at his christening in July: