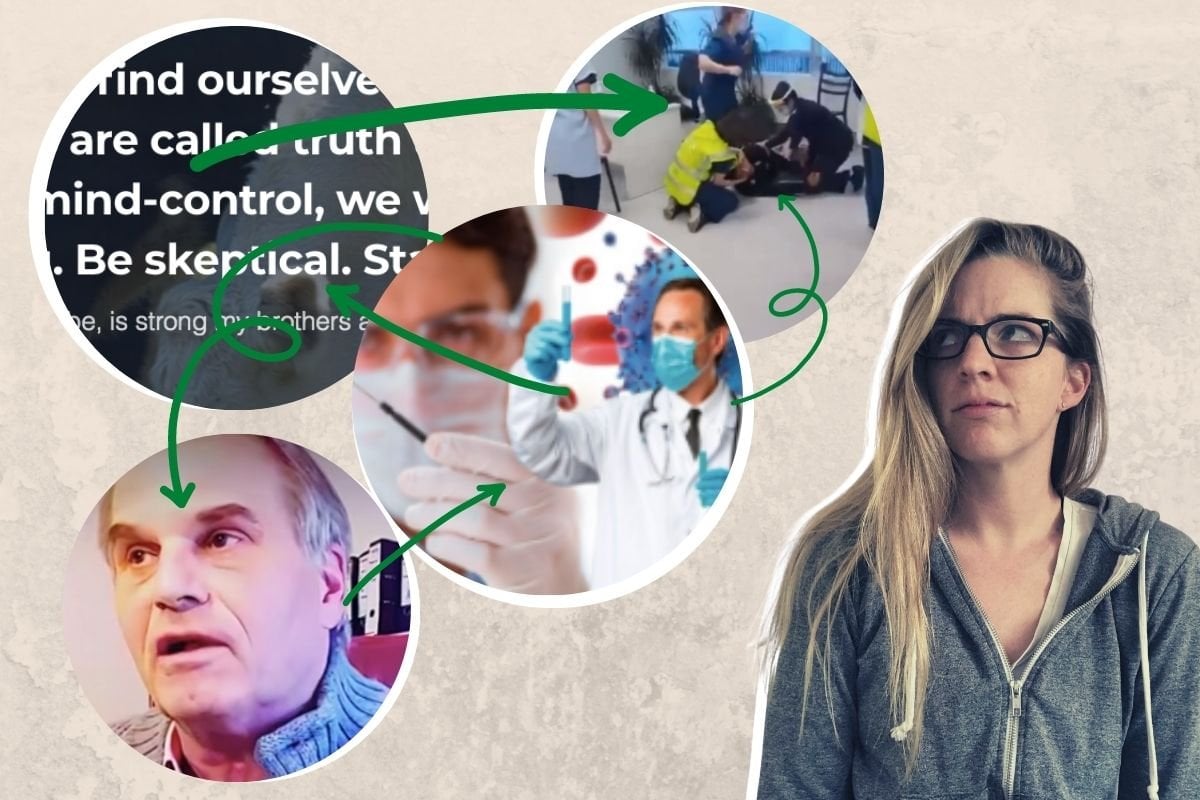 Usually when a COVID-19 conspiracy theorist slides into my email, it's abusive. 
I am sworn at and told to 'do my research,' and chastised for continuing to share informative articles and news stories about the current state of COVID-19 in our country. 
I, like millions of other law-abiding citizens, have watched on horrified as thousands of Australians pour onto the streets in protest, or share misinformation on social media platforms followed by eye-watering amounts of people.
While they are in the minority, their voices are loud, and I have found myself furiously mulling over two questions of late: Where are they getting their information? How have they got this so wrong? 
Watch: How to talk to anti-vaxxers. Post continues after video.
So when I opened my inbox this week to a polite email from a conspiracy theorist offering me links to his research I thought, fantastic! Convince me.
I proceeded to watch every single thing he sent over. 
Here's what I learnt. 
There's truth mixed into the lies.
This is why misinformation is such a stubborn beast. It so hard to pull apart because it's a clusterf*** trying to separate the lies from the nuggets of truth. It requires a lot of "well, yes that's true. But that's not."
I want to focus on one link I was sent in particular, a video (from America) claiming to show children collapsing and dying from the vaccine in Australia. 
On August 18 an online program (that won't be named here), shared a report that claimed: "2 Kids DEAD After 24,000 Children Herded Into Stadium for JAB!"
In the video, NSW Health branding is visible on attendants' clothing as they tend to someone on the ground. It's blurry and the nurses quickly put up a shield to protect the person's privacy while telling the person filming to stop recording. 
As the Therapeutic Goods Administration (TGA) has told AAP FactCheck they have "not received any reports of death occurring after vaccination in an individual aged 18 years or under."