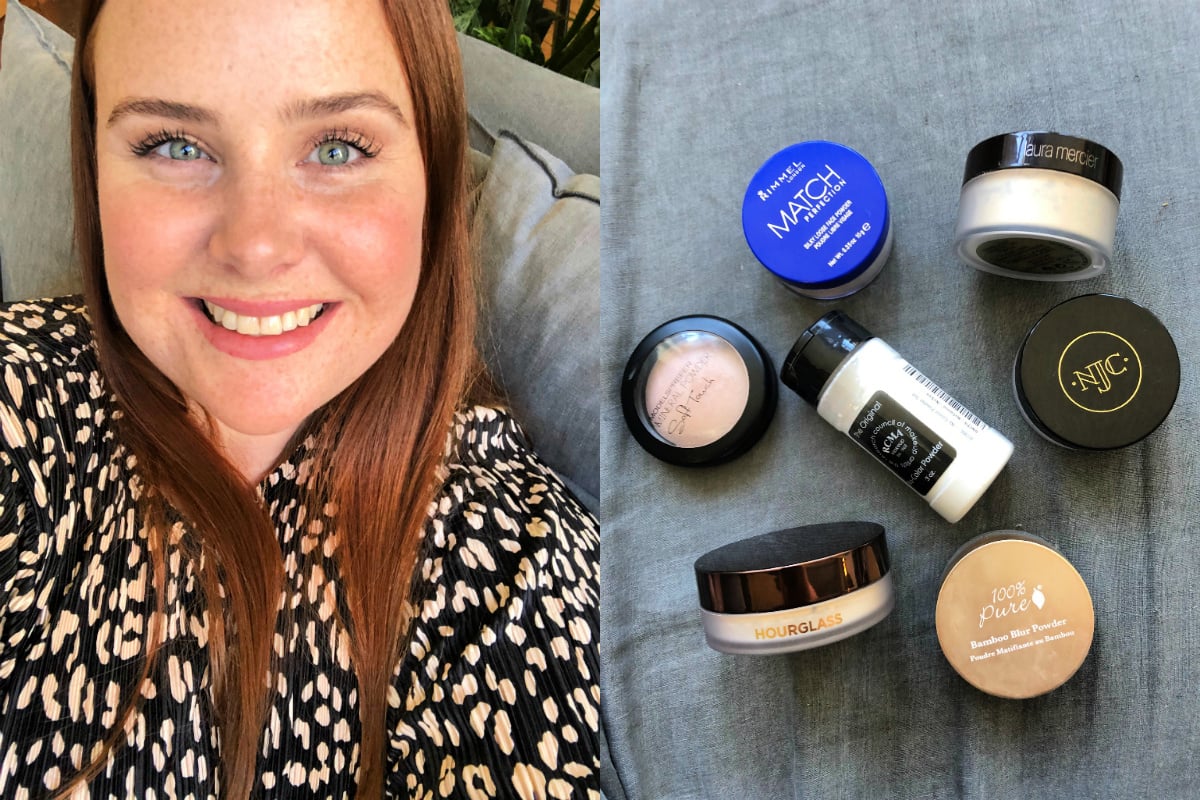 Mamamia's Tried and Tested series is your weekly review of the latest to hit our desks in beauty, health and wellness. You won't find any #sponsored content here, just honest, relatable and independent advice. This week, Senior Lifestyle Writer Amy Clark road-tested seven cult setting powders.
My name is Amy and I'm a face sweater.
Day and night, and no matter the season, it seems my body's way of regulating temperature is producing tears of sweat under my eyes and along my hairline. Oh, and I'm always on SULA.
Sweaty. Upper. Lip. Alert.
I'm that much of a face sweater, I've even tried a face antiperspirant. Hint: it didn't go so great. My coping strategies for managing said face sweat consist of: having cold showers in the morning, washing my hair at night to avoid hot blow-drying in the AM, and taking breaks in between stages of doing my makeup to sit in front of a fan.
That's the morning sorted, but during the day, I rely heavily on setting powder. It's for this reason I've been road testing seven different ones over the last week to find out which are the best for anyone out there struggling to manage their sweaty face, too. Here's what I found.
WATCH: Here's how to add a dash of colour to any makeup look, post continues after video.
But first, let's talk about how to apply setting powder.
For sweaty face people like myself, the inclination is to simply dunk your face in a vat of setting powder and go on your merry way. Sure, that'll keep your face nice and matte, but the downside is you lose all of the glow, dew and vibrancy that make you look healthy and alive.
Where you put your setting powder will depend on your skin type i.e. where you actually get oily. That's your T-zone (across your forehead, down the nose and on the chin) for most of us. I also powder into my hairline and under my eyes where I've applied concealer for good measure, keeping my cheeks free. You can powder your whole face if you want, but start slow and build up to the coverage/finish you like.