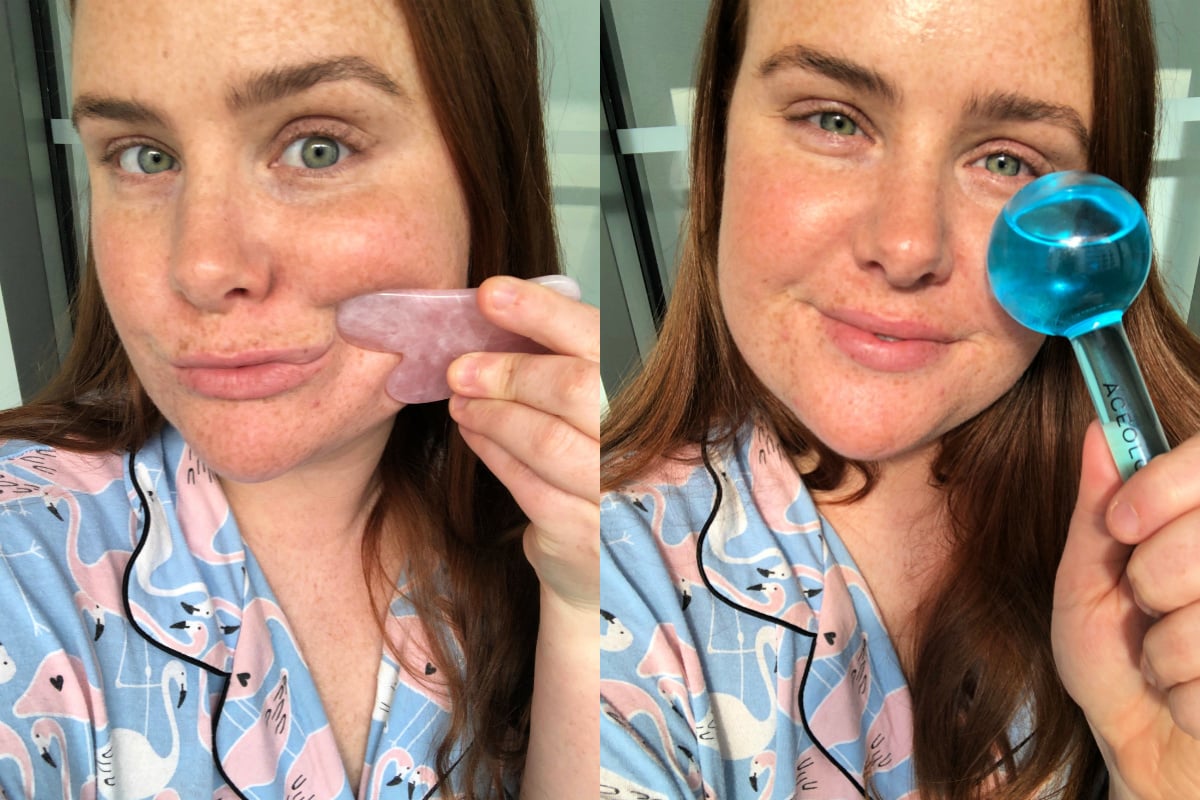 Mamamia's Tried and Tested series is your weekly review of the latest to hit our desks in beauty, health and wellness. You won't find any #sponsored content here, just honest, relatable and independent advice. This week, Senior Lifestyle Writer Amy Clark road-tested the new, weird-looking facial massage tools from Aceology.
Confession: I am really over beauty tools.
Wherever you look, there's a new, fandangled contraption one simply must purchase in order to have glowing skin, look 50 years younger, save the planet and live your best life etc.
I'm talking about: Cleansing brushes. Cleansing vibrators. LED light masks. Skincare fridges. Mechanical brush cleaners. Jade rollers. Rose quartz rollers. Space age silver balls that zap you with electrical currents.
We spoke about jade and rose quartz rollers on the You Beauty podcast, get it in your ears below. Post continues after audio.
Don't get me wrong. Some of these tools are wonderful. Others have me wondering if rolling an apple or a toy truck over my face would have the same effect.
One category I've always been sceptical of is facial massage tools. Specifically, rollers and gua sha.
If I'm honest, the reason I'm sceptical is Instagram. Sure, people have been using rollers and gua sha massage techniques since forever, but right now, they're all over my Insta feed, which makes it hard to know if they're legit or another social media fad.
In particular, a new range of facial tools from Aussie skincare brand Acelogy keep coming up again and again. The brand behind the jelly-like face masks made famous by Martha from MAFS have released a rose quartz gua sha tool and what they're calling 'ice globes'. Ranging from $45 to $69, these tools aren't cheap, so are they worth investing in on top of all your other skincare?