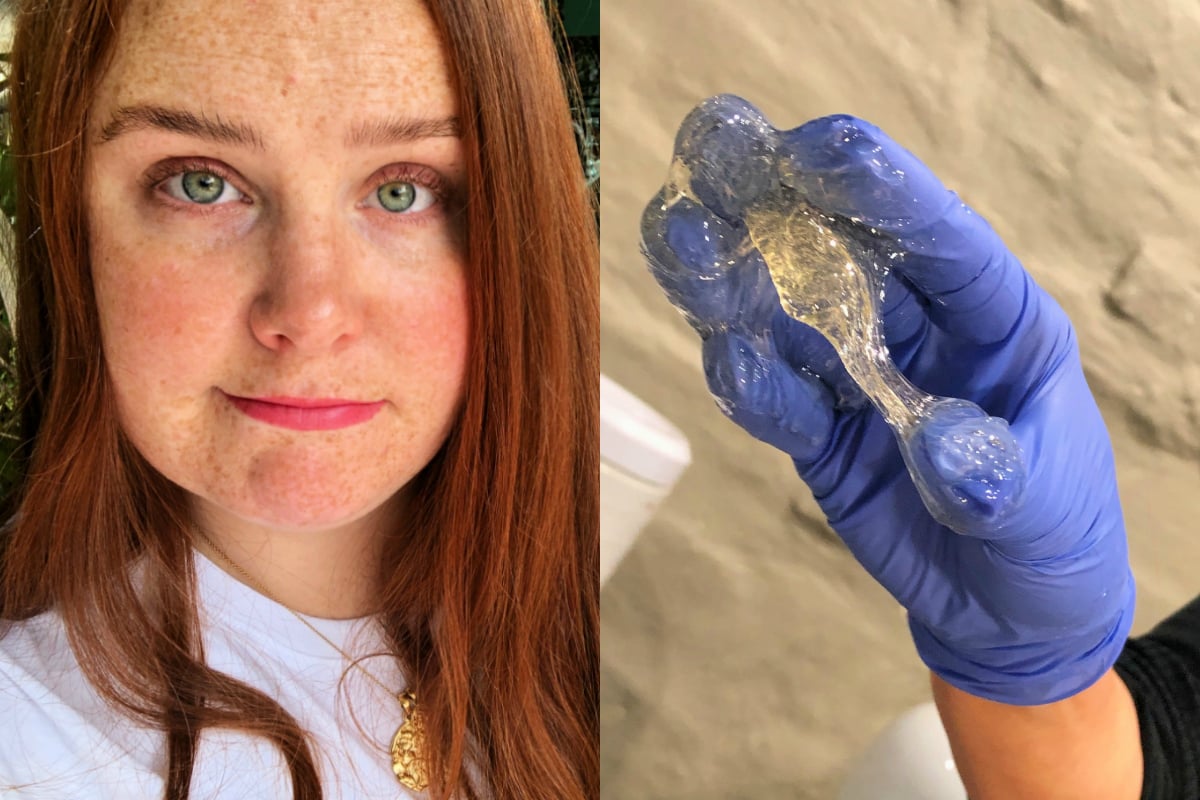 Mamamia's Tried and Tested series drops every Monday and is your weekly review of the latest to hit our desks in beauty, health and wellness. You won't find any #sponsored content here, just honest, relatable and independent advice. This week, Senior Lifestyle Writer Amy Clark road tested Brazilian sugaring.
A few months ago, I asked 52 women to draw what their pubes look like.
No, not for my private perusing, sicko. It was for a Mamamia story aimed at normalising all kinds of pubic hair, from all there to all gone. The results were fascinating, but one submission was particularly curious.
You see, one woman said she gets her pubes 'sugared'.
"I get sugaring. I hadn't heard of it before moving interstate, but I would never go back to waxing. It's far less painful and I don't get ingrowns – it is slightly more expensive, but this pubic hair removal is actually a relaxing experience and a good option for me as I am too fair for laser," said woman wrote.
Naturally, I needed to know more and try it for myself.
So off I went to my nearest experienced sugaring aesthetician for a full Brazilian sugaring treatment to report back to you good folks. My pubes and I had no idea what to expect.
Before we get stuck in (geddit?), here's a rundown of women's pubic hair through the ages. Post continues after video.
What is sugaring?
Sugaring is an ancient Middle Eastern form of hair removal Cleopatra herself is said to have used to tend to her bush.
It uses a natural, sticky concoction of sugar (yep, actual sugar), lemon juice and water to remove hairs from the root, and some claim it to be a completely painless alternative to waxing.
Sugaring is natural, organic, sustainable and hypoallergenic, and can be done anywhere you can get waxed – eyebrows,upper lip, face, armpits, legs, bikini line or, as I experienced, all over.
How does sugaring work?
An aesthetician will chuck a glove on and scoop out a big glob of the sugar mixture, working it into a ball between their fingers.
Then, they'll spread the sugar ball over your bits in the opposite direction to your hair growth before letting it set slightly and pulling it up and off in the same direction your hairs grow.
If I had to compare it to something, I'd say it's like slime or a very stretchy piece of chewed up bubble gum.