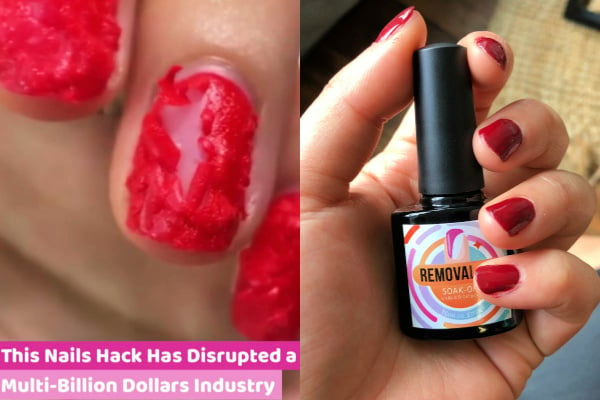 Mamamia's Tried and Tested series drops every Monday and is your weekly review of the latest to hit our desks in beauty, health and wellness. You won't find any #sponsored content here, just honest, relatable and independent advice. This week, Senior Lifestyle Writer Amy Clark road tested a viral 'exploding' nail polish remover gel.
I was lying in bed in my holey, stained pyjamas doing absolutely nothing at all when I found it on my Facebook feed.
A pokey, salesy video advertising a nail polish remover gel that's meant to 'explode' your nail polish off.
As soon as I saw the freaky footage of a woman's nail polish literally bursting and being eaten away by this 'miracle product', I knew I had to try it. $40-something Aussie dollars and around 34 days later, a little bottle of VanishPolish™ arrived at my desk, battered from its long journey.
Here's a snippet of what the VanishPolish gel looks like in real life (hint: nothing like on social media). Post continues after video.
But let's backtrack a bit. A… nail polish remover gel that… explodes your nail polish off?
Sure, that's what VanishPolish promises to do, but like many viral internet products, is it too good to be true? I put my nails on the line to find out.
What is VanishPolish and how do you use it?
VanishPolish™ is an acetone-free gel that reckons it can break down nail polish, gel and powder manicures in 30 seconds.
The brand's website says the product contains 'natural resin, cellulose and deionized water' (???) and is formulated to melt nail polish and gel top coats without harming your real nails underneath.
Here are some of VanishPolish's other claims:
Fast, safe, gentle salon quality gel nail removal solution.
Rapidly breaks down polish upon application in around 30 seconds.
Leaves nail surface smooth, squeaky clean and damage-free.
That's all great, but what REALLY sucked me in was the video ad showing a person's nail polish literally bursting and exploding before being peeled off, leaving nothing behind.