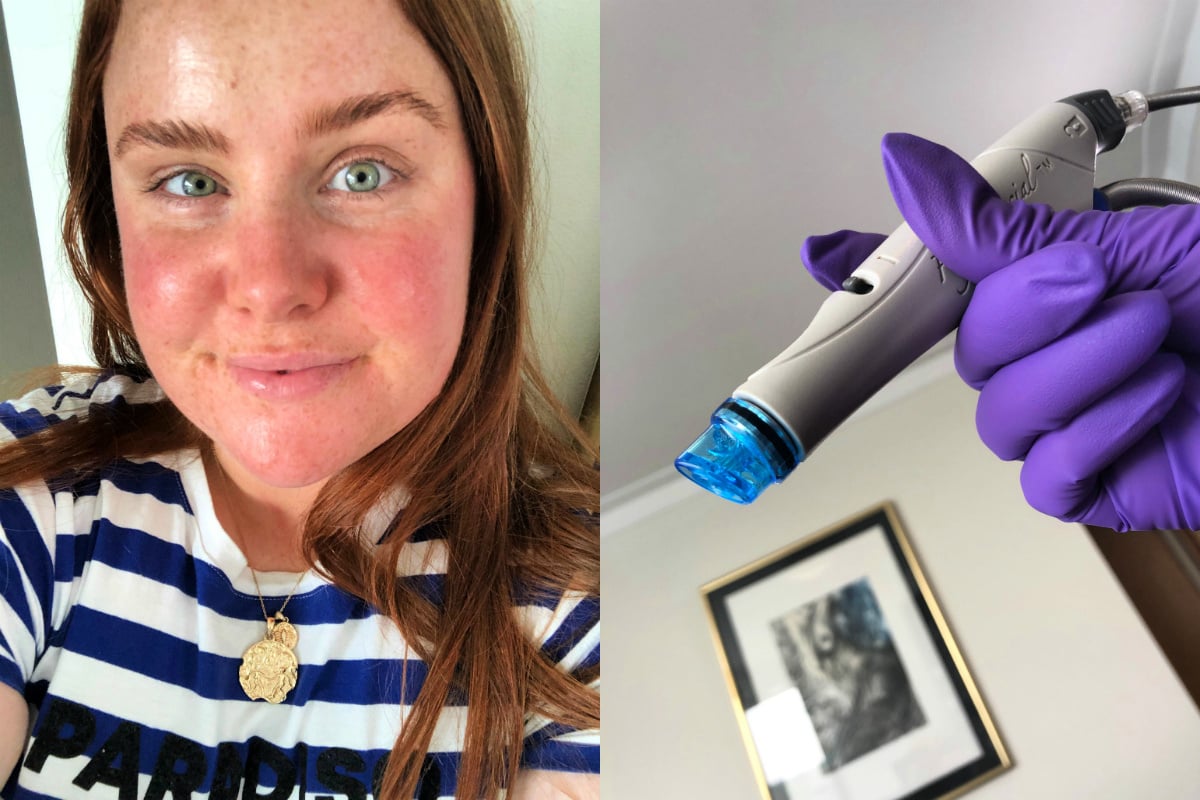 Mamamia's Tried and Tested series is your weekly review of the latest to hit our desks in beauty, health and wellness. You won't find any #sponsored content here, just honest, relatable and independent advice. This week, Senior Lifestyle Writer Amy Clark tried a HydraFacial.
For what I imagine has been hundreds of years, women have enjoyed inspecting the pores on their faces in the mirror. Or before that, perhaps a puddle of water.
Our obsession with pores knows no bounds – we want to know what's in them, how big they are and how to make them look like they've never spent a single night asleep with makeup on. In your search for the perfect pores, you've likely heard of or tried a number of pore scrubs, primers and patches. Now, let me introduce you to the HydraFacial, the new way to have the gunk cleaned out of your face.
Take a look at Amy getting her pores cleaned out during a HydraFacial in the video below (sound on for the 'sucking' sound!). Post continues after video.
HydraFacial is now available in Australia after gaining popularity overseas. According to the brand, one Hydrafacial is performed every 15 seconds. But what is a HydraFacial, can it really suck crap out of your pores and should you get one?
Keep scrolling for everything you need to know about HydraFacial and what it actually feels like to get one.
What is a HydraFacial?
A HydraFacial is a unique hydra-dermabrasion procedure that uses patented technology to cleanse, extract, and hydrate the skin.
Matt Moncrief, Managing Director of High Tech Medical and the person credited with bringing HydraFacial to Australia, told Mamamia the treatment is "soothing, refreshing, non-irritating and immediately effective in creating evenly-toned, glowing, dewy skin."
Dr Bruce Williamson of SkinSmart clinic added, "The Hydrafacial gives an instant improvement in the visual look and tone of the skin, whilst delivering ongoing improvements in skin health over time with a series of six treatments."
OK, but how does the HydraFacial machine work?
HydraFacial is actually the name of the machine used in this facial. The HydraFacial machine looks like a computer on a trolley with tubes coming out of it and uses a patented Vortex-Fusion® delivery system that creates a swirling vortex effect to easily dislodge and remove impurities deep into the skin.