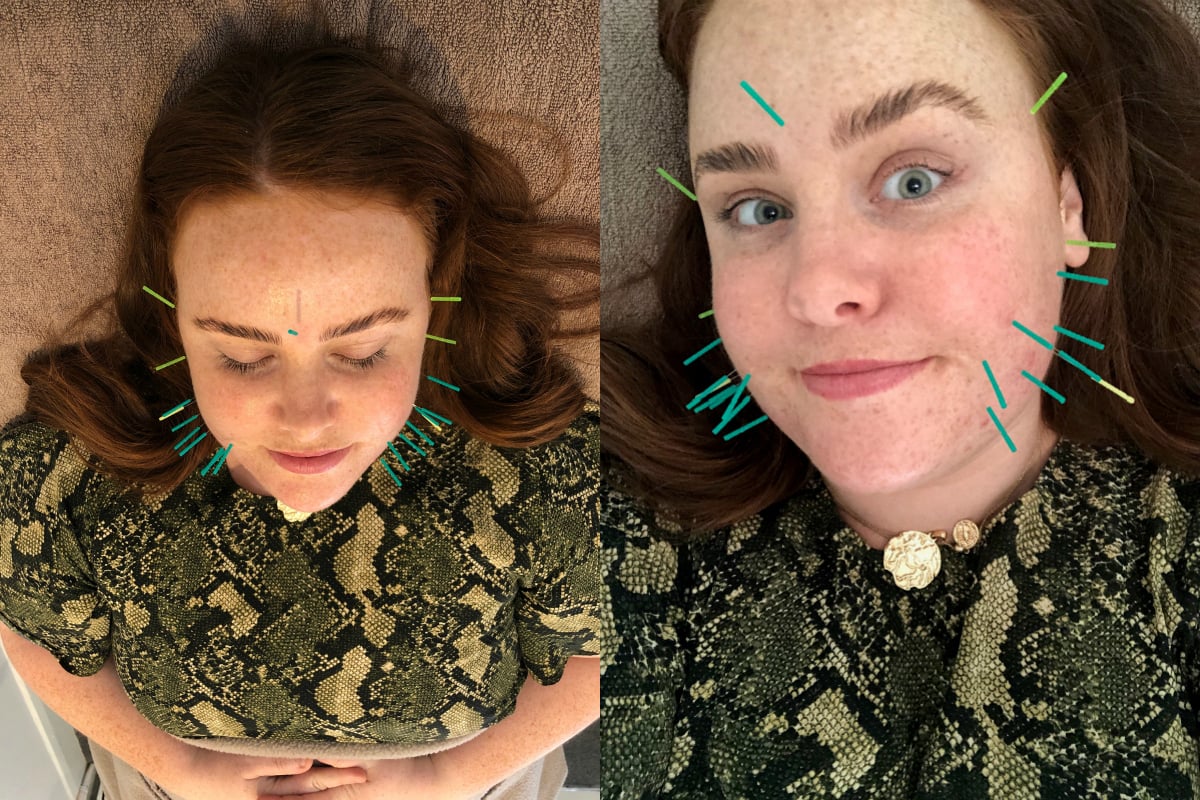 Mamamia's Tried and Tested series is your weekly review of the latest to hit our desks in beauty, health and wellness. You won't find any #sponsored content here, just honest, relatable and independent advice. This week, Senior Lifestyle Writer Amy Clark road-tested cosmetic acupuncture.
It's been two weeks since I decided to have 21 colourful needles stuck into my face in the name of plump, juicy skin.
No, I'm not talking about botox or filler (yet). I'm talking about cosmetic acupuncture.
Cosmetic acupuncture, or face acupuncture, is exactly what it sounds like – acupuncture, for your face. There's a lot to know about cosmetic acupuncture and how it's used in the beauty world, so here's everything you need to know from someone who's had it done.
Before we get into it, here's a video demo of how you can use coffee in your beauty routine. Not at the same time as cosmetic acupuncture though… Post continues after video.
What is cosmetic acupuncture?
Dr Vivian Tam is a Doctor of Chinese Medicine, acupuncturist, educator and founder of Cosmetic Acupuncture Melbourne. Dr Tam explained cosmetic acupuncture is essentially what emperors and empresses did to look after their skin back in the day.
"Facial acupuncture is an ancient beauty protocol spanning back thousands of thousands of years. From a scientific point of view, it's based on the concept of stimulating collagen through trauma, but it's an ancient form of Chinese dermatology," she told Mamamia.
So, yes, it's about your face (and we'll get to what this treatment can do for your face in a bit), but cosmetic acupuncture from a Chinese medicine perspective is all about 'qi', the Chinese word for 'energy'.
Dr Tam added, "We believe energy flows through the body like blood, and when people are stressed, we always say the energy becomes stuck. Cosmetic acupuncture is about unblocking that energy and allowing it to flow for the body to function optimally."