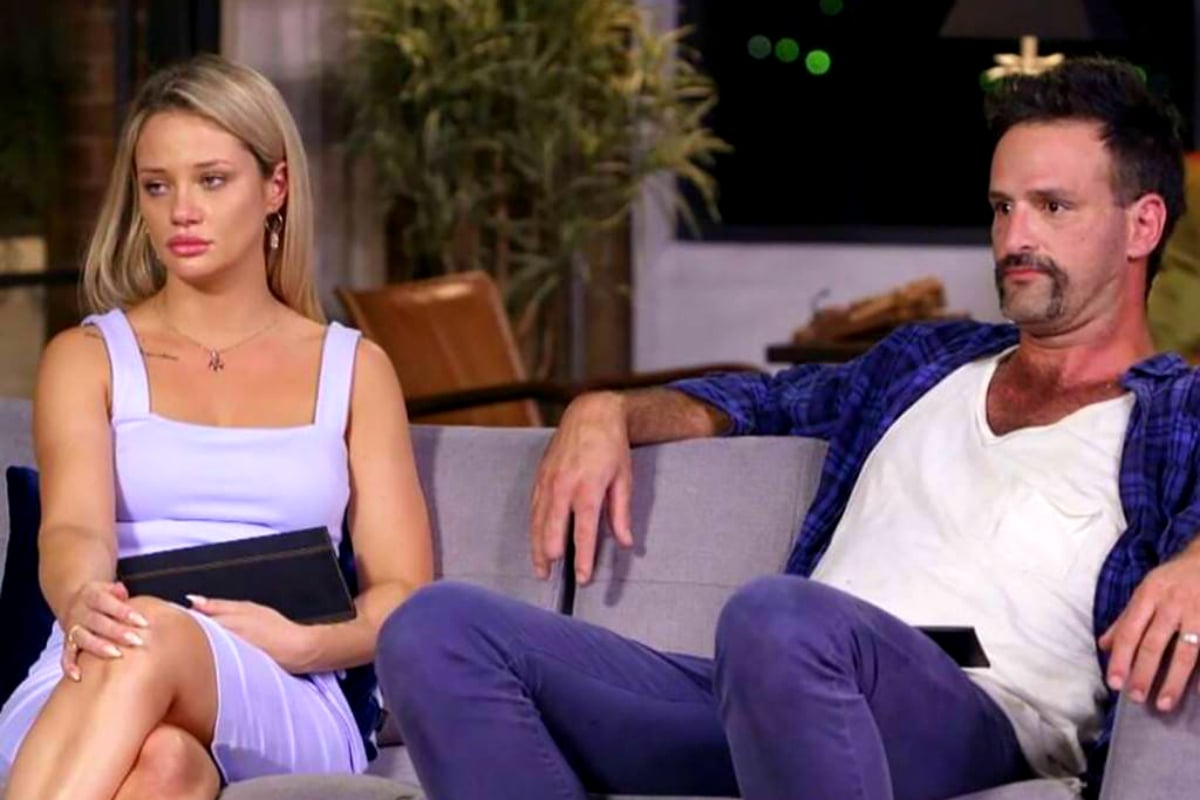 1. The lie Jessika told Mick that wasn't shown on Married at First Sight last night.
In a very confusing twist that left the MAFS-watching world convinced the experts actually enjoy watching relationships burst into flames, Jessika and Mick have been forced to spend another week together in hell their toxic pairing and we really don't see this ending well but OK.
It all comes after Mick called every single person Jessika holds dear a c**t, leading her to cheat on him with another woman's husband, Dan. Oh, and they haven't spoken for days.
Yeah, not the basis for the most healthy relationship, if you ask us.
But not only is Jessika lying to Mick about her infidelity, she lied to him about her choice on whether she was planning to stay in the competition or leave, totally blindsiding him in front of the experts. Shady.
She also lied to John Aiken and we're pretty sure that's a jailable offence.
"We had a talk at the airport (while returning from the homestays) and she told me she was gonna write 'leave'. What a surprise. Another lie," Mick told 9Honey.
"We didn't talk at all after she made that decision," Mick said of the time following last night's commitment ceremony. "At that stage I was in a separate room as per my request to get away from old mate. From the dinner party onward I tried to avoid her like the plague."
Yikes.
(But we kinda can't get past him referring to her as old mate).
He's not the only contestant who's being held captive in a volatile relationship. Susie, who seems blatantly disgusted by her television husband Billy, also chose to stay.
We can't help but wonder whether the extra Instagram followers are really worth completely breaking two men, but ¯\_(ツ)_/¯ .
2. "Pray for me. Been struggling a lot." Justin Bieber's emotional message to fans.

Justin Bieber has shared a candid Instagram post to fans touching on his mental health struggles and urging people to "pray for him".
The singer, who married Hailey Baldwin last year, has reportedly sought medical treatment for depression recently, and today, revealed that he's been feeling "super disconnected and weird"
"Just wanted to keep you guys updated a little bit hopefully what I'm going through will resonate with you guys. Been struggling a lot. Just feeling super disconnected and weird," wrote the 25-year-old.
"I always bounce back so I'm not worried just wanted to reach out and ask for your guys to pray for me. God is faithful and your prayers really work thanks… the most human season I've ever been in facing my stuff head on.."