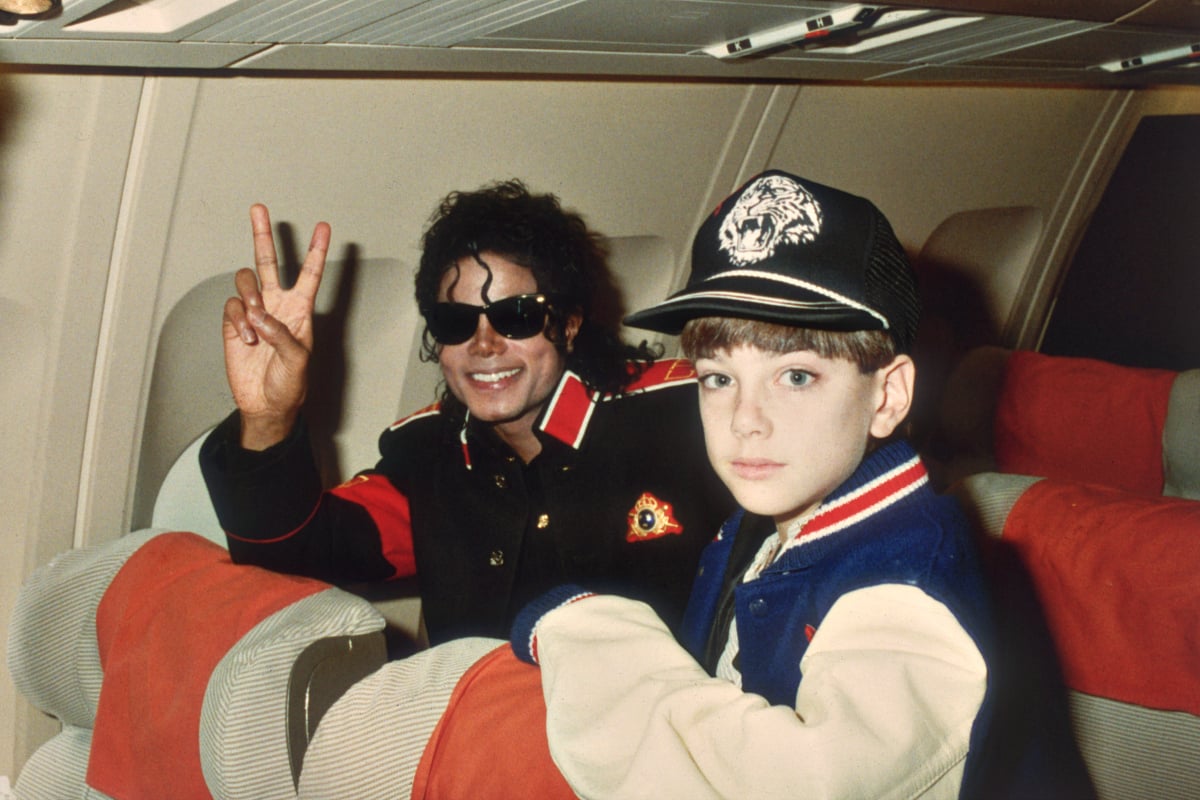 The following deals with childhood sexual abuse. For 24-hour support, call 1800 RESPECT (1800 737 732).
On Friday morning, Australian viewers will have access to a documentary that has captivated attention and fuelled debate around the world, one so disturbing that counsellors were made available to the audience at its Sundance Film Festival premiere.
It's called Leaving Neverland, and it gives voice to two men who claim that, as children, they were subjected to sexual abuse by the King of Pop himself, Michael Jackson.
In the four-hour, two-part film, which will be available to stream on 10 Play from 10:01am on March 8, choreographer Wade Robson, 36, and James Safechuck, 42, explicitly detail claims about the horrors Michael Jackson allegedly inflicted on them in mid-to-late 1980s. From allegations of psychological grooming, to sleepovers at the singer's famous Neverland ranch and years of sexual attacks.
Listen to The Quicky, Mamamia's daily news podcast. Post continues after audio.

According to Leaving Neverland, these are five key facts about Michael Jackson's twisted relationship with Wade Robson and James Safechuck.
1. Michael Jackson met Wade Robson and James Safechuck when they were children, and befriended their families.
Five-year-old Australian boy Wade Robson met his hero, Michael Jackson, in 1984 when he won a nation-wide dance competition inspired by the popstar's signature moves. The performer invited him backstage at his Brisbane concert, and a few years later, when the boy and his family went on holiday to California, they were invited to stay at Neverland in Santa Barbara.
Safechuck, meanwhile, met Michael Jackson in 1986 on the set of a Pepsi commercial in which they both starred. Jackson was taken with the then-10-year-old, taking Safechuck and his family on tour with him.
2. The boys had unsupervised sleepovers at Neverland.
Michael Jackson was open about having sleepovers with children. For the 2002 documentary, Living with Michael Jackson, he told journalist Martin Bashir, "I have slept in the bed with many children… It's very right. It's very loving."
According to court documents, Wade Robson was seven years old when he and his 10-year-old sister spent the first night of their holiday at Neverland sleeping alongside Jackson in his bed. The second night, it was just the boy. These solo sleepovers became more frequent when Robson and his family moved to the United States, with Jackson's encouragement.