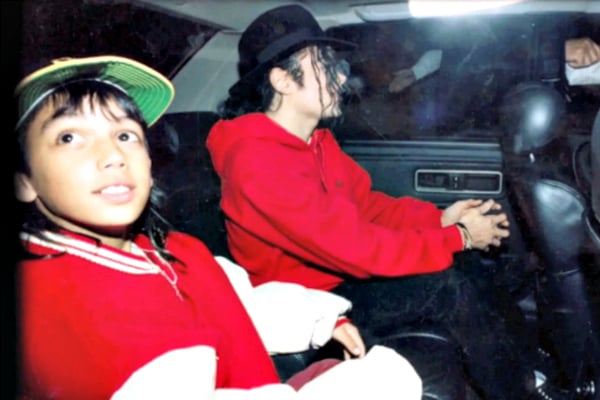 When a young Wade Robson watched on TV as his idol and friend Michael Jackson whisked another little boy into his black SUV to go away with him on tour, it broke his heart.
That was supposed to be his seat at Jackson's side, but the King of Pop had told him kids weren't allowed on tour that time around.
Except for Brett Barnes.
At the time, Robson couldn't understand what he had done wrong for his best friend to replace him with someone else. In hindsight, he now understands Jackson "didn't like to mix [them], he liked to keep the relationships separate".
In HBO's two-part documentary Leaving Neverland, which aired on Friday and Saturday nights on Network Ten, we not only hear details of the alleged systematic sexual and emotional abuse Robson and James Safechuck experienced at the hands of Jackson, but also just how deeply Jackson's relationships with 'other boys' affected them.
You can watch the Leaving Neverland trailer below, post continues after video.
Robson and Safechuck say they felt pushed out and forgotten, replaced by Barnes and child actor Macaulay Culkin.
Both Barnes and Culkin have consistently denied ever experiencing a sexual relationship with the Thriller singer during their youth. But what did their relationships look like?
Here's everything we know about Michael Jackson's 'other boys', Brett Barnes and Macaulay Culkin.
Who is Brett Barnes?