To catch up on all things royal family, make sure you check out our Royal Hub. We've got you completely covered.
There is no better runway than a royal wedding.
From statement hats to boldly coloured dresses, royal wedding guests went all out at Princess Eugenie and Jack Brookshank's royal wedding last month.
But there was one particular guest that stood out – Cara Delevingne.
Wearing a top hat and a three piece Emporio Armani suit with tails, the 26-year-old model was voted by many as one of the Best Dressed guests at Princess Eugenie's wedding.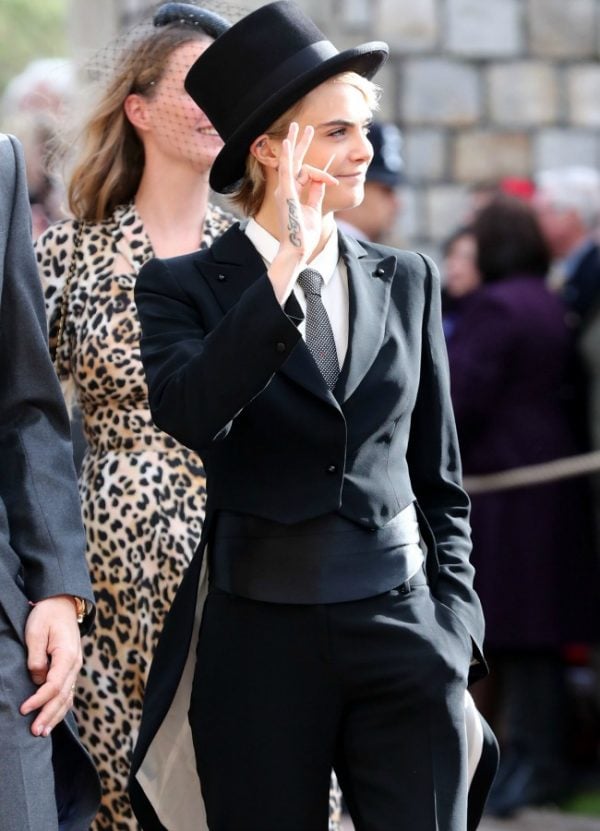 But while the Suicide Squad actress' outfit topped the Best Dressed lists, it actually broke royal protocol.
For the royal wedding, women were recommended to wear "a modest day dress and hat" to the event.
Speaking to Grazia, Cara shared how she asked Princess Eugenie for permission to wear a top and tails to the wedding.
"Eugenie has been a friend of mine since I was a kid and I've always wanted to wear tails," she said.
"I texted her, as I wasn't sure about it and she was like 'of course, I expected nothing else from you!'"
Cara added that she was surprised by the attention her outfit received.
"I found it interesting how many people came up to me and said, 'You're so brave to wear that!' I was like, really? I feel way more comfortable like this."
Cara attended Eugenie's wedding with her friend, journalist Derek Blasberg as well as her sister Poppy Delevingne and her husband James Cook.
The wedding was attended by a number of celebrities including Kate Moss, Demi Moore, Ellie Goulding and Robbie Williams.
Want more Mamamia stories? Sign up to our newsletters and get our best stories straight into your inbox.