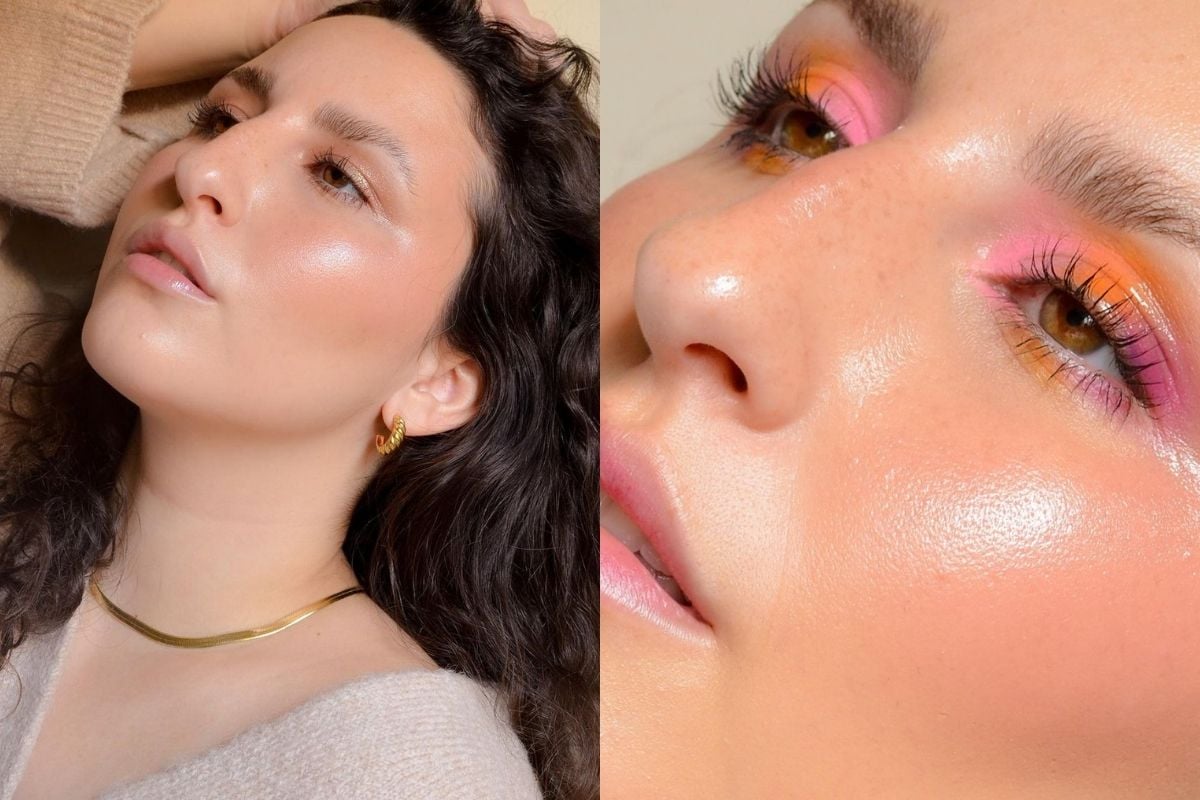 Hello! I'm Clary, and I'm addicted to really juicy skin. My skin is super dry, and skin that looks like skin but *juicy* and glassy is where I like to be. 
Watch: 'I tried the lube makeup trick. And the results kinda surprised me.' Post continues below.
Glow is achieved in thin layers with the help of the right products, so where do we even start when picking the right steps and products?
1. Skin prep.
So often I will get DMs or clients asking me, "What is the best foundation to achieve juicy skin?", or "I have dry skin, what is the best glowy foundation?". 
Fun fact: Your initial glow shouldn't come from your makeup - it should come from skincare layers underneath your foundation. With the right skincare, you can turn ANY foundation into a glowy foundation.
With skin prep, I focus on addressing hydration in a couple of formulas - a serum (usually a hyaluronic acid kind of serum), a facial oil (I find this to be the real key to the glow), a moisturiser and SPF (if it's daytime). In that order! 
We get told often that oil has to come after moisturiser, but it is actually absolutely fine for it to go before moisturiser. Of course, you can tweak this formula to fit your skin's needs.
If your skin is not hydrated enough under makeup, your skin kind of eats up the makeup you've put on top (you know your skin is doing this if it sort of patches off and/or disappears throughout the day or looks kind of chunky/crusty in areas). 
Your skin should not be relying on your makeup for things that your skincare needs to provide.
My skin is quite dry, so I love a good hydration routine. Some of my current favourite skin prep products are:
2. Base.
Now that skin is bouncy and juicy and serving glazed donut realness, we can get into makeup deets. 
Most foundations/tinted moisturisers should now glide on like a glowy dream considering all our hard work skin prepping (unless you are putting on the most matte foundation). 
If you're having a long day/night, you could also use a primer for that *extra* longevity. 
My current go-to products for my base are:
Primer - Milk Makeup HydroGrip Primer, $100, NYX Bright Maker Primer, $24.95 and Smashbox Photo Finish Illuminate Glow Primer, $58.

Foundation - NARS Light Reflecting Foundation, $73, Ere Perez Oat Milk Foundation, $54, Rimmel Kind & Free, $16.49, Danessa Myricks Yummy Skin, $34, Milk Makeup Sunshine Skin Tint, $42, and Laura Mercier Liquid Lumiere, $73.

Concealer - Anastasia Beverly Hills Concealer, $45, Kosas Revealer Concealer, $42, NARS Soft Matte Concealer, $45 or NARS Radiant Creamy Concealer, $45.
In terms of application, primer can go on like a moisturiser or with a buffing brush across the face. With foundations/tints, I like to dot them across the face so that way you know how much product is going on the face (I call this the foundation Dalmatian).