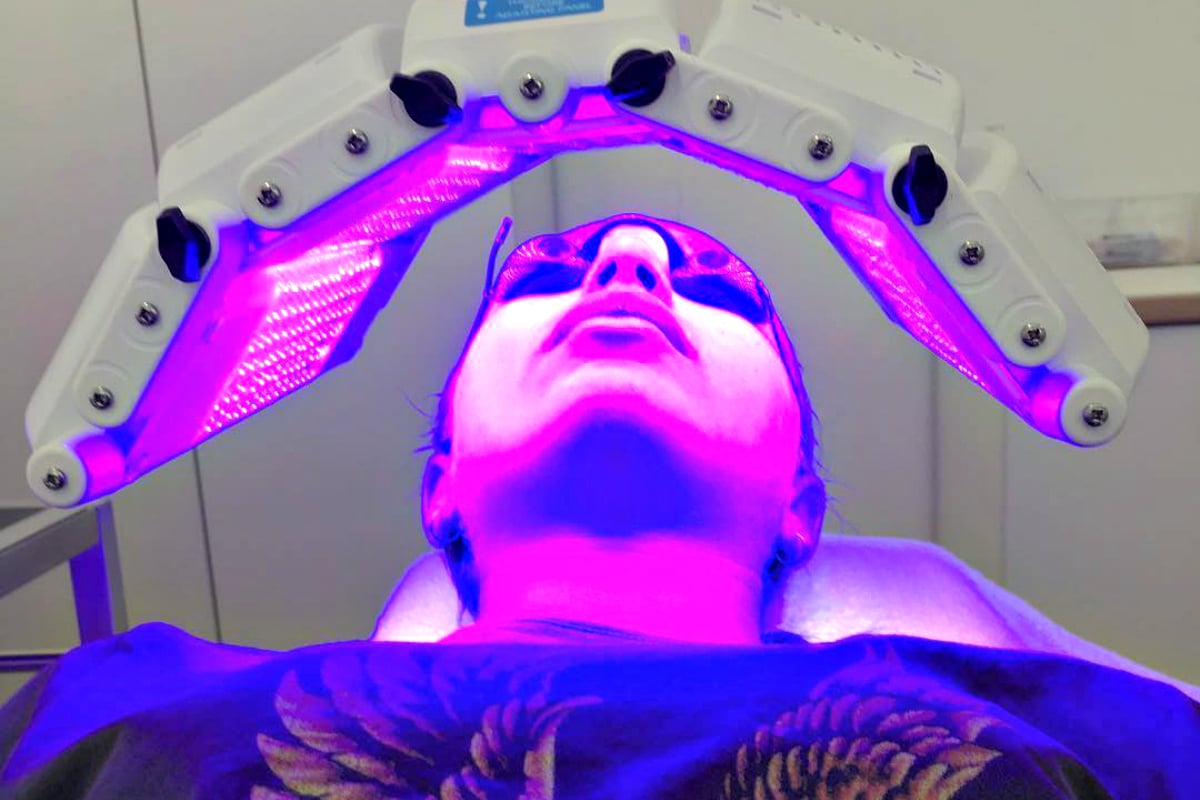 Anyone who's ever experienced the struggles of acne, as a teen or in their adult years, would have considered all manner of treatments in the quest for clear skin.
One such treatment many people swear by is light therapy treatment.
Light therapy for skin is the treatment of the stars that boasts a potential solution to troublesome skin, keeping your constant desire to hide under layers of make-up at bay.
But how do you know if light therapy works and whether blue light therapy or red light therapy will work best for you?
We have lots of questions, so we consulted dermatologist Dr Garry Cussell, owner of Rejuvenation Clinics of Australia, to find out the ins-and-outs of acne light therapy treatments.
Light therapy for skin – summary:
Blue light therapy treats acne by killing bacteria.
Red light therapy reduces inflammation and redness, and speeds up the healing process.
Expect to see light therapy results after around eight sessions.
No down-time, you might experience redness or inflammation after the session.
Light therapy sessions start at approx. $50.
At-home light therapy products, like the Neutrogena Light Therapy Mask, are a popular alternative.
Beauty journalist of 15 years Leigh Campbell explained everything you need to know about at-home LED light therapy products on the You Beauty podcast, post continues after audio.
What is light therapy?
"It originated in the '90s," Dr Cussell said.
"The big breakthrough was the discovery that acne's bacteria (Propionibacterium acnes or P. acnes for short) – the main bacteria involved with the inflammation and infection and therefore the soreness in acne – can be killed with the blue light, a non invasive light, and not ultraviolet, so it doesn't cause any damage.
"It basically oxidises a chemical in the cell wall of the bacteria and kills the bacteria, so when that was discovered it started to be used, and there have been a lot of variations since then."
Blue light therapy for acne.
How does blue light therapy work for acne-prone skin?
"[The blue light] kills the PH bacteria, but they don't kill the surface bacteria as such," Dr Cussell explained.
"To explain that – the P. acnes bacteria are normal bacteria found in everyone's oil, usually they don't do any harm. What happens with acne is the oil gland is blocked, and the sebum plug doesn't allow the oil to escape, so oil builds up under the skin, and then you get an overgrowth of P. acnes bacteria and that's what causes inflamed pimples and cysts and acne. That's what the phototherapy cures."
"It'll help with all acne – but it is better with inflamed acne, where there's a lot of P. acnes bacteria and the pimples are more inflamed, red and sore to touch, and trapped under the skin," he added.
"The oral antibiotic we use for acne will kill the surface bacteria and help to reduce the inflammation, but they don't kill this particular bacteria – which is why light therapy is so successful in treating.
"People who just have trapped oil, without a lot of bacterial infection – that's more your blackheads – and your non-inflamed acne isn't going to respond so well. But most of the inflamed acne and most of the adult hormonal acne is very inflamed and that will respond."