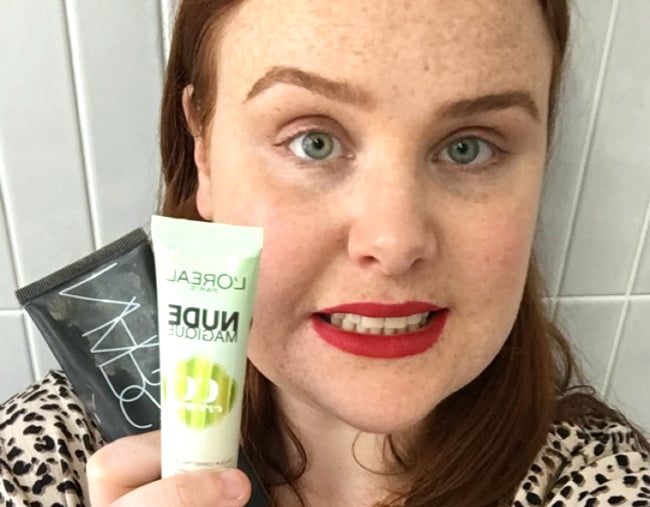 I'd like to preface this post by saying it's 100 per cent OK to have a pimple, or several types of pimples, on your face. We all get them.
That said, if you'd like to learn how to cover pimples, you've come to the right place.
Knowing how to cover up pimples, blemishes and pigmentation on your face is an underrated skill because, well, it isn't an easy thing to do.
Aside from the fact they're red and angry most of the time, blemishes of all kinds tend to suck the concealer off your face pretty quickly.
Psst… beauty editor Leigh Campbell has a great hack for how to cover pimples. Watch how she does it below. Post continues after video.
No need to stress, though. We have two easy hacks for how to cover pimples. Hint: One is really gross.
Let's get into it.
How to cover pimples.
Here's a quick step-by-step for how to cover pimples:
Use an opaque, high-coverage concealer (or dried product from around the lid and nozzle of your foundation).
Apply concealer with a small, angled brush precisely where you need it.
Set the concealer over your pimple with a translucent powder applied with a small, fluffy brush.
Easy enough, right? Before you jump into it, there are some important points about each step to keep in mind.
Best concealer for pimples.
Rather than using your under eye concealer – a lightweight and light reflecting formula that bounces light away from dark circles – covering up blemishes and an uneven skin tone calls for an opaque, creamy concealer that'll melt into your skin and be undetectable. (Mamamia's Leigh Campbell explained the difference between types of concealers on You Beauty, listen below, post continues after audio.)
Here, you want serious staying power and a matte finish so as to not draw the eye to the area you're trying to hide. These concealers generally come in pot or stick form and are thick, highly-pigmented and offer full coverage.
You might need to shop for a new shade if your current concealer is matched to your foundation shade, or if you're fake tanning your face during summer.
The concealers we love for covering pimples are the Nude By Nature Flawless Concealer, $24.95, NARS Soft Matte Complete Concealer, $46, and MAC Studio Finish Concealer, $38.