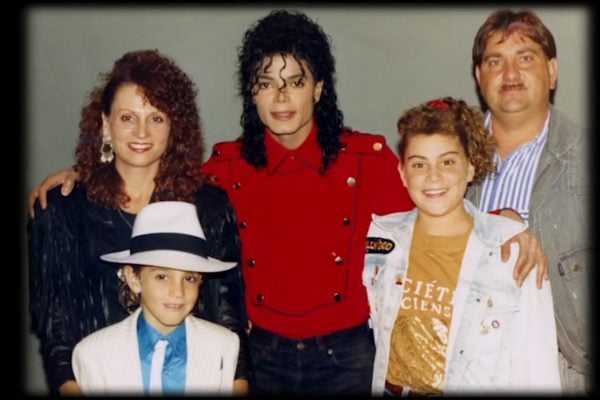 This post deals with child sexual abuse. If it raises any issues for you, contact Lifeline on 13 11 14.
James Safechuck is asking himself a question.
"Do I forgive my parents?"
It's the last thing James asks in four hours of interviews about what happened to him when he was a little boy.
And anyone who has sat through Leaving Neverland – the documentary about both James' and Australian child-performer Wade Robson's alleged abuse – is asking that same question about the boys' families, along with another: How could they?
Because during these conversations, we've heard that when James was 10, his mum and dad frequently left him in the care of an alleged paedophile.
They travelled with the man, and let their son sleep in his hotel room rather than theirs.
They would go away and leave him at the man's house.
They often stayed at the home with James and his alleged abuser. But they stayed in another room, another wing, another building, sometimes, knowing that their son was sharing a bed with a grown man.
And James says that over the course of days and weeks and months and years, the man coaxed him to become "his lover". He taught the boy how to masturbate, and how to do the things that the man liked to look at while he masturbated himself. They performed oral sex on each other. James says they had sex in almost every room of one of the world's most famous properties.
What do we do about Michael Jackson's music? This is the question we're asking on The Quicky.

The paedophile allegedly took James shopping for wedding rings, putting on an elaborate display for the surprised attendants in high-end jewellery shops that the tiny ring was meant to fit the hand of a woman whose finger was small and slender, like James'. James still has the ring that was used at their pretend "wedding". A 32-year-old man, pledging himself to a 12-year-old boy, with whom he was in "love".
The man moved on to another young boy. And then another. James was frequently pining, heartbroken. But the man always stayed in touch with James and his parents. Visiting, calling, making sure they were good. That they were on-side.
When James defended the alleged paedophile against child sexual abuse charges in a high-profile legal case, the man bought James' parents a house.
When another legal case was mounted, brought by a different boy at a different time, James refused to testify. His parents were angry with him. And the man cut them all out of his life.
Now, James is 42 years old. And he is in the most-talked about documentary of the decade, telling the world that he spent years being sexually abused by Michael Jackson, the world's most famous man.