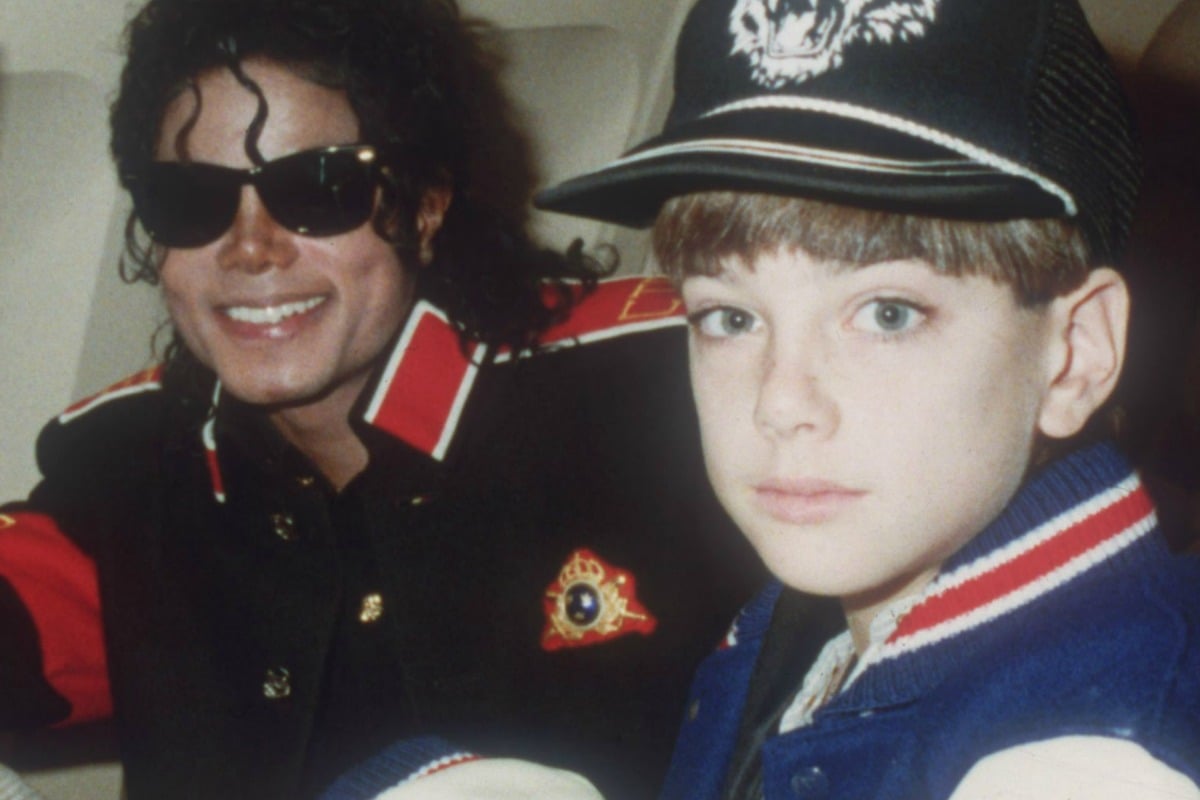 In one of the most harrowing scenes in Leaving Neverland, James Safechuck places a small gold band over the top of his ring finger.
The 41-year-old can't even push it past his first joint.
According to Safechuck, Michael Jackson gave him the tiny diamond-encrusted ring when he was just 10 years old. The ring was placed on his prepubescent finger during a mock wedding in which he and Jackson exchanged vows.
After telling this story, a visibly shaken Safechuck places the ring back in a small box filled with several others. For years, the world's biggest pop star would lavish the young boy with expensive gifts, including the infamous jacket from the Thriller music video.
Watch the new trailer for Leaving Neverland below.

Safechuck was just eight years old when he first met Jackson.
In December 1986, the Californian school boy was hired to star alongside the Beat It singer in a Pepsi commercial. Safechuck says Jackson immediately befriended him and his family on set.
Later, when the ad began airing across the US, Jackson invited Safechuck and his family to accompany him on his Bad tour. He even appeared on stage with Jackson at the final concert of the tour in Los Angeles, doing the moonwalk alongside the pop singer.
During the tour, Safechuck would sleep in Jackson's hotel room, while his parents slept down the hall.
Then came the trips to Neverland and the vacations all over the world.
Safechuck's parents were smitten. They couldn't believe one of the biggest recording stars in the world wanted to give them all this special attention.
"For him to want to be our friend, we're like, oh my God, how lucky are we? He flies you first class, he has a limo waiting at the airport, amazing. It's a life of the rich and famous," Safechuck's mother, Stephanie, recalls in the documentary.
What Safechuck's parents didn't know was that Jackson was allegedly sexually abusing their young son. At some point, Jackson asked Safechuck to start sleeping in his bed with him. He then allegedly performed sex acts on Safechuck and coerced the boy to perform sex acts on him.
During the documentary, Safechuck claims Jackson molested him in the pool and the Jacuzzi. In the locked, private box in Jackson's movie theatre that had one-way glass so no one in the theatre seats below could see in. In the hidden attic bed in Neverland's train station. In the teepees in the yard.