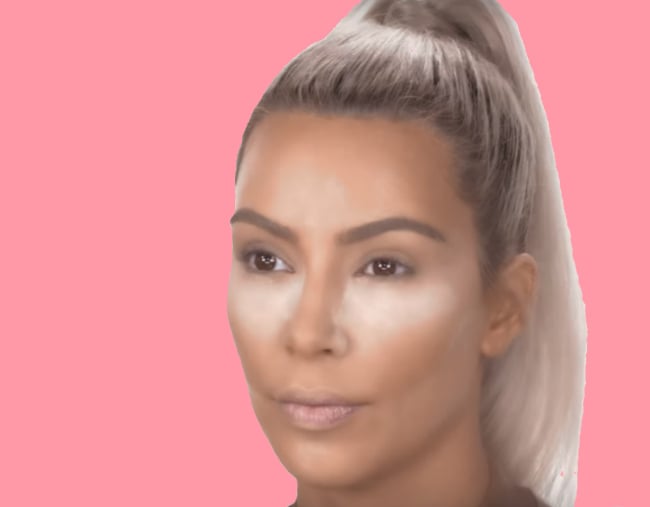 If you're following Kim Kardashian West on Instagram, you may have heard her repeating three words in a chant-like fashion over and over this week.
So often, she's whispering to me in my sleep.
Conceal, bake, brighten.
Conceal, bake, brighten.
That's because Kim's releasing a new concealer kit to her KWK Beauty range that promises to help us achieve the exact finish her makeup artist Mario Dedivanovic creates for her under eyes.
But… but how the eff does one conceal, bake and brighten?
Here's a quick run down on how to follow thy conceal, bake, brighten commandments and get Kim's 'I've slept for one trillion years' under eye look.
Without turning out like a powdery ghost.
1. Conceal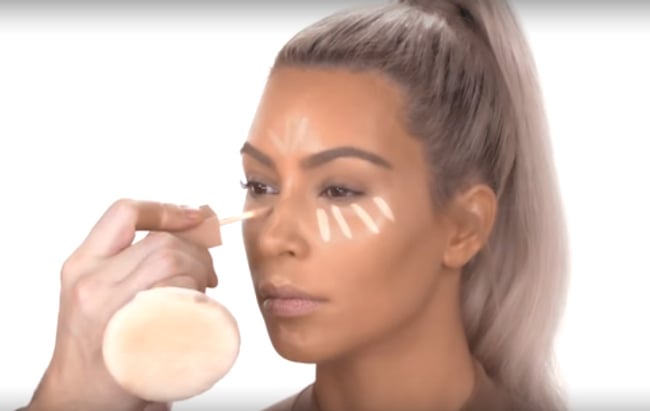 There's a good chance you're familiar with the process of concealing - Kim K's version of this is really no different to how you're already doing it.
Except for the way Mario applies the product under Kim's under eyes to make her look like a majestic Aztec warrior.
If you're looking to emulate Kim's look, chose a liquid concealer and use a small brush or beauty blender to blend the product out and up. Celebrity makeup artist Tobi Henney uses the NARS Radiant Creamy Concealer ($44) but you can also try the more budget-friendly L'Oreal True Match Concealer ($9.69).
Mario also takes the concealer over Kim's eyelids and the high points of her face (forehead, bridge of the nose and chin), and then goes back over his work again. And again. And then again.
2. Bake
Now for the part that to the everyday person would look utterly ridiculous. Baking.
Baking involves applying a layer of fine translucent or light loose powder over your concealer to set it for a wrinkle-free finish. Basically, you 'bake' your concealer to avoid the product settling into the fine lines under your eyes.
To bake, Mario recommends using a beauty blender to apply a layer of the powder directly onto the skin wherever you put your concealer. Then, sit there like a powdery ghost and let it 'bake' (or set) for a minute or so before brushing away the excess powder with a small brush. Some baking enthusiasts say you should leave the powder on for 10 to 15 minutes - do what you will.
Laura Mercier's Secret Brightening Powder ($40),  Maybelline's Face Studio Master Fix Baking Powder ($14.99) and the Sephora Collection Smoothing Translucent Setting Powder ($29) are all great options to try, if you dare.
3. Brighten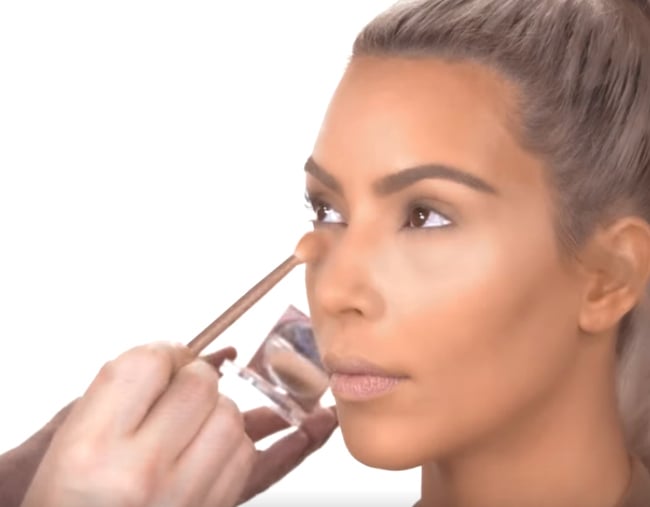 Once you've concealed and baked, Kim says you really ought to brighten to "completely white out your under eyes". Her words, not ours.
This final step is quite simple and serves the purpose of brightening up the area you've matified by baking.
Mario uses a small fluffy eye brush to lightly blend in a brightening powder, which he says adds "that extra pop".
To get your own extra pop, dust a little Mecca Max Banana Bake Skin Filter ($24), Kat Von D Lock-It Brightening Powder ($42) or NYX Professional Makeup Radiant Finishing Powder ($16.95) under your eyes and you're done.
You can watch Mario and Kim's full Conceal, Bake, brighten tutorial below.
You can of course use these exact KKW Beauty products if you feel like paying for them/can get your mits on them. The Conceal, Bake, Brighten kits go on sale on the 23rd of March.
Depending on how much time you've got to spare in the morning and how much your bags bother you, you can incorporate parts or all of this regime into your daily makeup routine at your discretion.
Just be sure to chant conceal, bake, brighten under your breath and click your heels together three times while doing it.
Side note - the Mamamaia Out Loud team discuss the very NSFW latest skincare trend coming out of Korea below.
Want to win some skin care goodies? Like to have your opinion heard? Take our short survey now for your chance to a win a skin care pack.