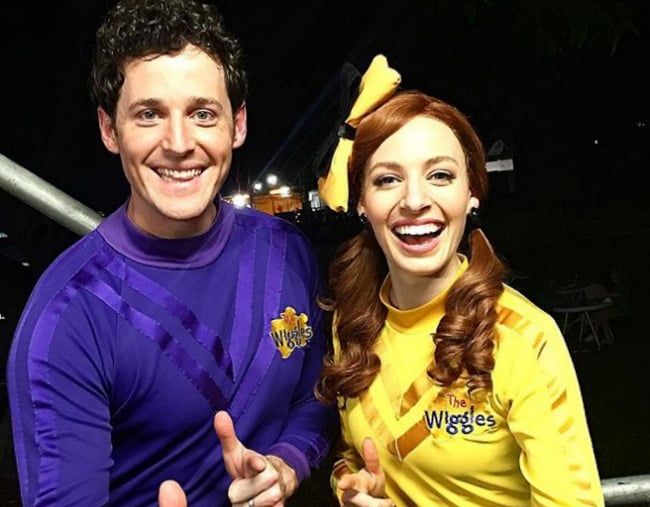 1.The Wiggles' Emma Watkins and Lachlan Gillespie were reportedly having marriage troubles 'immediately after their wedding'.

Just over a week ago, The Wiggles couple Emma Watkins and Lachlan Gillespie announced their separation after two years of marriage.
The Yellow and Purple Wiggle released a statement on Instagram, sharing that they would continue to work together despite their split.
But according to a 'source' close to the couple, the pair had been having marriage troubles for a long time,
According to the 'source', "cracks started to appear" almost immediately following Emma and Lachy's 2016 wedding.
"I think Em wanted the marriage for such a long time that it was always going to be hard to live up to the dream," a friend of the couple reportedly told Woman's Day.
"Ultimately, the fairy tale just didn't match up with the reality."
The source also claimed that working together on a busy schedule also took it's toll.
Since announcing their split, the pair have stuck to their promise to continue to working together, appearing at Sydney's Macquarie University side by side last week.
Emma and Lachy married in the NSW southern highlands in April 2016 after dating in secret for two years.
2.. Kylie Jenner left a shady comment on Kourtney Kardashian's Instagram and it has aroused a lot of suspicion.
Over the weekend, Kylie Jenner celebrated her 21st birthday in true over-the-top, glamorous Kardashian-Jenner style.
But while all eyes were on the famous sisters outfits posted all over Instagram, eagle-eyed fans spotted a interesting comment from Kylie Jenner.
On an Instagram post shared by the eldest Kardashian sister, Kourtney, Kylie wrote: "Happy birthday. You're so interesting to look at".
Oh, sisterly love.
The Kardashian-Jenner sisters have been caught up in a lot of family drama recently.
In the Season 15 premiere of Keeping Up With The Kardashians, Kim and Kourtney got into a screaming match over the family's annual Christmas card.
When Kourtney eventually stormed out of the photo shoot, Kim turned to Khloe and Kris Jenner and said "she's [Kourtney] the least exciting to look at".
Ouch.
3. Bella Thorne launched a scathing attack on the Teen Choice Awards and its "rigged system" despite being nominated.
Bella Thorne was nominated in multiple Teen Choice Awards categories, but she was no where to be seen at the celebrations after declaring a boycott in July.
The 20-year-old took to Twitter last month to explain her decision not to attend the event... and it was rough.
'Teen choice is gross," she began the lengthy rant. "The fact we are even voting against each other is …. it f*cks w kids heads like a beauty competition …"
"I'm #boycottingteenchoice besides it being rigged it's just f*cked up."
Vote for the hottest is so gross
How about smartest?
Or a charity category? How about we hype people up for doing good things not being hot

— BITCHIMBELLATHORNE (@bellathorne) July 24, 2018
She continued, taking aim at some of the award categories.
"Vote for the hottest is so gross How about smartest? Or a charity category? How about we hype people up for doing good things not being hot."
The star was up for three surfboard awards this year: Choice TV Actress: Drama/Action Adventure for her role of Paige in Famous in Love as well as Choice Movie Ship and Choice Movie Actress: Drama for her portrayal of Katherine "Katy" Price in Midnight Sun.
4. In the midst of her health troubles, Pink has posted a very public message to Rove McManus.

Last week, Pink was recovering from a gastric virus that saw her cancel four Sydney concerts in her Beautiful Trauma tour.
The singer was able to resume her tour on Saturday, but never forgetting those who support her, she posted an emotional tribute to comedian Rove McManus and his wife, Tasma Walton.
Posting a photo of herself with the couple, Pink wrote:
"As challenging and as topsy turvy and forever changing as it all can be, this thing called life...One of my all time biggest and forever gratitudes is this; my travels have brought me gems."
She added, "Unique antique collectible one of a kinders. These people that I love with my whole heart and see so rarely. My life and my heart is so full because of them, these rad fucking humans spread across the globe.
"I love you @rovemcmanus and @tasma_walton and I missed you dearly ❤️❤️❤️❤️"
McManus and Pink have been friends since the days when Rove hosted his own late night show, of which the singer was a regular guest.
Last week, McManus defended her amidst backlash to her cancelled shows.
"You deserve so much better than even having to post a response to this. Much love from all of us who know the real you," he wrote on one of her posts.
5. Kanye West's remark perving on his wife's four sisters is being called "disgusting".
A few days after his controversial appearance on Jimmy Kimmel Live, Kanye West has released a new song. But there's one particular lyric in the new song 'XTCY' that's got fans attention – and it's easy to see why.
"You got sick thoughts? I got more of 'em / You got a sister-in-law you would smash? I got four of them," Kim Kardashian's husband raps.
Kanye's four sisters-in-law that'd he like to "smash"? Kourtney, Khloe, Kendall and Kylie, of course.
Well, that's sure to make the next Kardashian-Jenner family gathering a little awkward.
Kanye didn't just rap about his famous sisters – he also used a photo from sister-in-law Kylie Jenner's 21st birthday as the track's artwork.
Needless to say, Twitter had a lot of opinions about the new song, with many fans grossed out by the lyrics.
"you got sick thoughts? i got more of 'em/you got a sister in law you would smash? i got 4 of them"https://t.co/uqHHwvnno9

— Genius (@Genius) August 11, 2018
You can read the full story here.