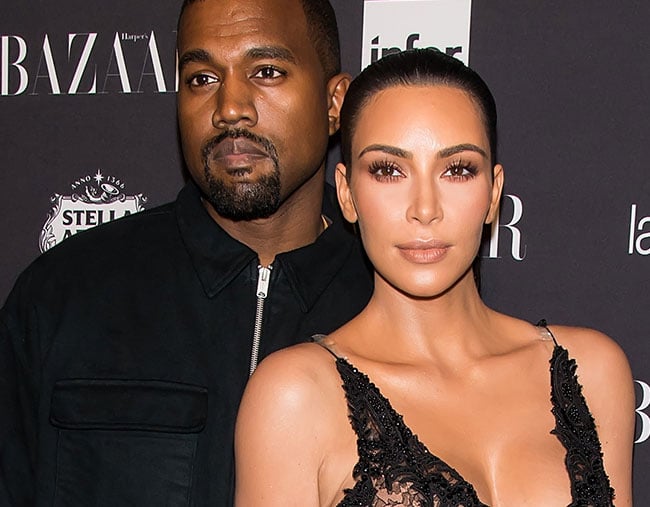 A few days after his controversial appearance on Jimmy Kimmel Live, Kanye West has released a brand new song.
But there's one particular lyric in the new song 'XTCY' that's got fans attention – and it's easy to see why.
"You got sick thoughts? I got more of 'em / You got a sister-in-law you would smash? I got four of them," Kim Kardashian's husband raps.
Kanye's four sisters-in-law that'd he like to "smash"? Kourtney, Khloe, Kendall and Kylie, of course.
Well, that's sure to make the next Kardashian-Jenner family gathering a little awkward.
He didn't just rap about his famous sisters – Kanye also used a photo from sister-in-law Kylie Jenner's 21st birthday as the track's artwork.
Needless to say, Twitter had a lot of opinions about the new song, with many fans grossed out by the lyrics.
Kim rn pic.twitter.com/0TWoTrF0vd

— ♔ℓα∂у к♔ (@iamladyk) August 11, 2018
Kanye West really 41, talking about how he would "smash" his 21 and 22 year old sister-in-laws.
Bitxh that's disgusting, you could be their father.
He really follows Trumps lead, huh?

— Jennie ???? (@celestiallmj) August 11, 2018
I am a fan of @kanyewest but i think your #xtcy song is a total waste of air waves. Where is the talent here i don't get it. promoting drugs like its glamorous & repeating the word XTCY which make me want to turn off the radio & disrespect to your family of women. just EW & gross

— Jennifer Garcia (@choochoo2u) August 11, 2018
why would u say that pic.twitter.com/y4QUDsmGLs

— ????'???? ???????????? (@unitfpilot) August 11, 2018
Kanye's new song comes just days after his much-talked about Jimmy Kimmel Live! appearance.
During the interview, Kanye appeared stumped when Kimmel asked him whether he thinks US President Donald Trump cares for black people.
When Kimmel pointed to the policy that separated immigrant families and asked: "You've so famously and so powerfully said 'George Bush doesn't care about black people,' it makes me wonder what makes you think that Donald Trump does, or any people at all?", Kanye didn't respond.
He was also asked if his attitude towards women had changed since having his two daughters, North and Chicago.
"Nah, I still look at PornHub," the 41-year-old replied.
What do you think about Kanye's new song lyrics?
Need a quick break? Want to win $100? Want to be listened to? Enough questions already? Do our quick survey now!