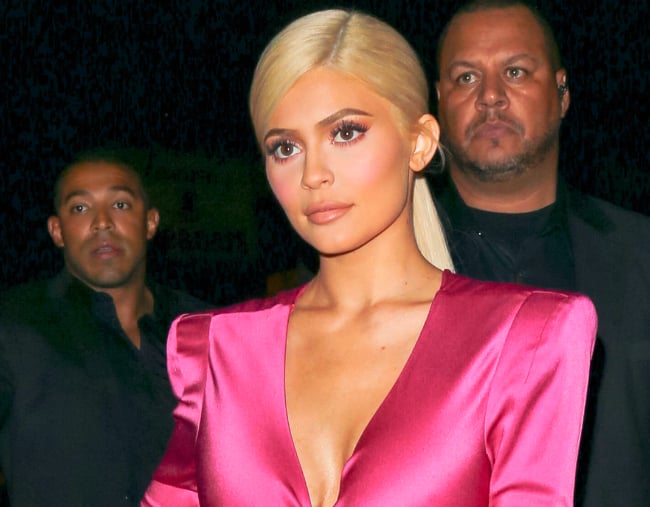 Many of us would be completely elated with a Freddo Ice Cream cake and a bottle of Pink to celebrate our birthday. Add some camembert and some Jatz and your expectations would be greatly exceeded. Best night ever. Unless, of course, you're Kylie Jenner.
Turning 21 yesterday, the entrepreneur celebrated with her nearest and dearest in the most excessive and glamorous way possible. No detail was overlooked, with even the bar tender's t-shirts celebrating the 21-year-old.
1. The birthday cake
This was… really just not a Freddo Ice Cream at all. The birthday cake, designed and created by Bree's Cakes in Los Angeles, looks freakily like a makeup box covered in Kylie Jenner's makeup line Kylie Cosmetics, and it's 100% edible. This is really taking the edible makeup trend to the next level.
2. The ball pit
A ball pit is usually a source of entertainment at children's birthday parties but with a whole room dedicated to being a ball pit at Kylie's party, I think it just became appropriate for adults to love them too.
3. The drinking cup scheme
To make things easy for all the singles in the room, and to prevent all those taken repeatedly letting that guy at the bar know they're in a relationship, Kylie brought back a trend we thought had been left at Year 10 parties: Traffic Light Cups.
4. The outfit changes
Outfit changes are all part of a night out for the Kardashian's and the Jenner's. But this one is seriously next level. Kylie transforms from an off-duty Barbie look to seriously glam. In addition to that, there is an actual barbie made to look like Kylie at her party.
5. The bar tender's t-shirts
Some call this little detail "too far" but goodness gracious we love how extra this is. It is an actual image of Kylie Jenner's Forbes cover on the back of the bar tender's shirt. Amazing.
6. The party favours
While no one explicitly says that they are party favours, we are close to 100% sure that each party guest received a blinged up denim jacket. Kim posted a video of the party favour to her Instagram story, and they are pretty cool.
7. The mural
Yep. Just incase a ball pit wasn't enough, there was a full wall-length mural with all of Kylie's best friends and family painted on it.
All in all, we are kind of really jealous of this insane party.