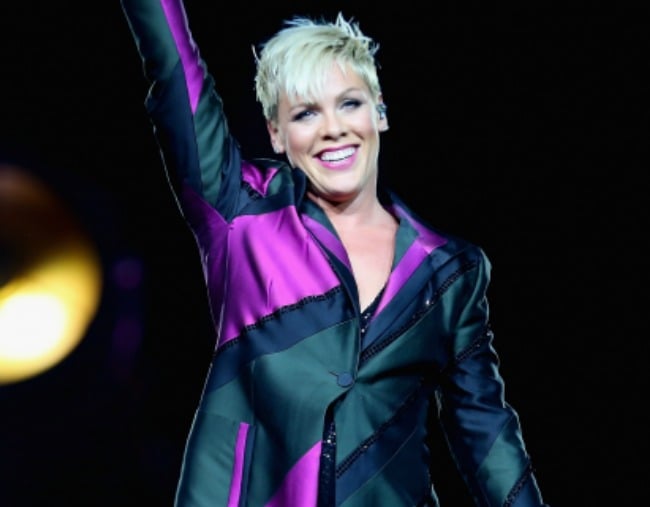 After a serious bout of gastro, Pink returned to the stage on Saturday night.
The What About Me singer performed in front of 20,000 screaming fans in Sydney's Qudos Bank Arena.
"Thank you guys for being here tonight. I'm not contagious, I swear," she laughed. "[But now I'm] Sooo skinny."
"I hope I didn't screw up anyone's week… Sorry if I did," she told the crowd before launching into a very Pink-esque performance.
The 38-year-old was admitted to St Vincent Hospital on Monday and had to postpone three of her Sydney shows.
The singer issued an apology to fans on her Instagram and thanked them for their patience and thoughtful wishes.
"I want to say thank you to all of the kind people out there for your well wishes for my speedy recovery," she said.
"On Monday, we were absolutely planning on going ahead with the show, and about 20 minutes before I left for soundcheck, I was rushed to the hospital, in excruciating pain.
"That was the reason for the late cancellation. It was out of anyone's control, and of course, wasn't planned that way."
On Wednesday, Michael Coppel – Pink's promoter from Live Nation in Australia – shared the full extent of her health problems.
"She suffered very serious attacks. She couldn't breathe and was doubled over in pain and had to be taken to hospital in an emergency ambulance," he told the Herald Sun.
"By that time, doctors were able to diagnose her based on the results from tests they had done the night before.
"She wasn't waiting to see if and when she would be able to perform when she was struck down with the virus. How a virus affects someone is not predictable at all.
"This is not a show you can do unless you are 99.9 per cent match ready and she's not there yet so we will give her this week to recover."
The rescheduled dates for the Sydney shows have now been announced and are as follows:
Friday August 3 ticket holders will be rescheduled to Friday August 24.
Monday August 6 ticket holders will be rescheduled to Monday September 17.
Tuesday August 7 ticket holders will be rescheduled to Tuesday September 18.
Thursday August 9 ticket holders will be rescheduled to Wednesday September 19.
These date changes will also affect Pink's concert on Thursday August 23 at the Brisbane Entertainment Centre and the performance has been moved to Wednesday August 22.
You can also head to the Live Nation website for more information on tickets and performances.