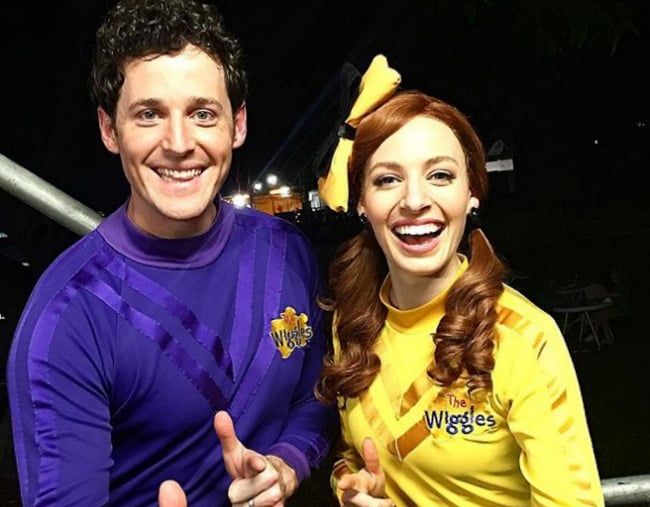 For two years, Emma Watkins and Lachlan Gillespie watched "lots of movies".
Not because they're avid film fans or particularly enjoy popcorn, but because the back row of a dark movie theatre was the easiest place to enjoy a date night without being recognised as the Yellow and Purple Wiggles.
Having just landed their dream jobs in The Wiggles updated lineup in late 2012 after Jeff Fatt, Murray Cook and Greg Page's retirement from the children's entertainment group, neither Emma nor Lachy had planned on dating their new colleague.
Since around 2010, both had been doing the hard yards in the early stages of their careers, travelling around the country as backup dancers in the Dorothy the Dinosaur national tour, playing every character from Wiggly dancers and Dorothy the Dinosaur, to Captain Feathersword and Wags the Dog.
The promotion was especially significant for Emma, who in her early twenties was making history as the first female Wiggle. Nothing was more important than focusing on work.
That is, until she started working alongside Lachy every single day.
"I really fell in love with Lachy in the first moment… but it took him a long time!" the now-28-year old said in a 2016 interview for The Sydney Morning Herald.
They knew they had a connection from the start, something which developed naturally overtime as they were spending so much time together, 32-year-old Lachy added.
"We haven't spent a day apart since 2012. We basically spent the entire year [of 2010] together, every single day."
So what do you do when you've just started the job you've been working towards for years, and kind of fancy your coworker? You keep it a secret.
And that's exactly what Emma and Lachy did, for two years.
Of course, work always came first, but they shared a few dinner dates in March, 2013, and "really started enjoying the little bits of time off we had together."
In 2015, Lachy told The Daily Telegraph "Nothing was more important to Emma and I than being in the new line-up of The Wiggles, focusing on the music and entertaining the children, so our relationship developed very slowly."
Officially, no one knew they were dating. Not even their management.
"We thought it was a respectful thing to do," Lachy previously said.
"There is nothing worse… if you've only just only started in a world-class organisation such as The Wiggles and then all of a sudden we come out that we are together… We didn't want people to think we were just doing it for [publicity]."
Unofficially, the chemistry between Emma and Lachy was clear to most of The Wiggles cast and crew, including original band mate Anthony who "definitely knew!"
Eventually, it got to the point where Emma and Lachy felt like they wanted to share their relationship with their colleagues, but also the fans. In early 2015, they announced to parents and children around the world that the Yellow and Purple Wiggles were in love.
Excited to share the happy news- Emma and Lachy are engaged! Big Wiggly congratulations from everyone at Team Wiggles pic.twitter.com/rXSGgGNZoA

— The Wiggles (@TheWiggles) May 4, 2015
About a month and a half later in May, Lachy proposed to Emma in front of the Sydney Harbour Bridge.
After reading a Roses Are Red poem – a family tradition from Emma's father – he got down on one knee and asked Emma to marry him, with a round cut, ruby and diamond platinum engagement ring.
To everyone else, it felt like a shotgun proposal, but for the couple, "it felt like quite a while" coming.
Emma and Lachy, who sadly announced their separation on Friday after six months of living apart, married in a traditional Scottish ceremony at Hopewood House in Bowral New South Wales  in April, 2016.
In a long sleeve lace Suzanne Harward ballgown and stunning Viktoria Novak tiara, Emma said 'I do' in front of over 200 close friends and family members.
In a joint statement, Emma and Lachy said they've been navigating through a trial separation privately since the beginning of 2018 and have now "made the decision to separate as a couple."
"We have embraced this as a very positive change in our relationship. Our incredible friendship has been strengthened throughout this time and what we have discovered is that, more than ever, first and foremost we love and adore performing as Emma and Lachy in The Wiggles and having the privilege of celebrating this happiness with extraordinary families around the world," the statement that Emma shared on Instagram read.
The last year has been particularly hard for Emma, who has been quite open with her ongoing treatment for endometriosis. In April of this year, she made "the difficult decision" to pull out of The Wiggles tour to undergo surgery.
"Over the last couple of years I had noticed a lot of [period] pain and I think even as a girl you are just used to dealing with what you have to deal with, and I think as it started to progress to get a little bit worse I thought I should get it checked out," she told the Today Show at the time.
Emma's diagnosis also meant putting off the then-couple's plans to start a family, with doctors advising Emma it would take at least 12 months for her to recover from the surgery.
The pair also said their breakup won't stop them from continuing to work together and entertain young children around the world, many of whom are no doubt heartbroken over the lose of their favourite Wiggles couple.
"We have chosen a different path to travel in our personal lives, but please know that we are stronger than ever and we can't wait to see you at a show soon."
All images by Lara Hotz Photography via Instagram.
Do your kids love The Wiggles? How will you explain the Yellow and Purple Wiggles' breakup to them?