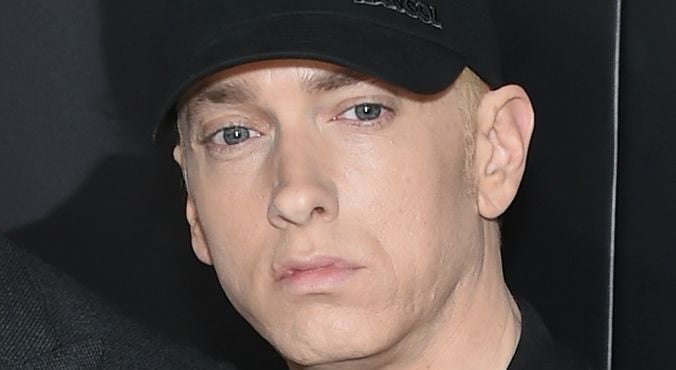 Image via Getty.
Eminem's long battle with drug addiction is intertwined with his music – he even documented his journey with two albums; Relapse (2009) and Recovery (2010).
But now the controversial rapper has spoken about how running 27 kilometres every day proved essential to his recovery.
In an interview with Men's Journal, Eminem (real name Marshall Mathers) spoke about how he discovered running after getting out of rehab following a drug overdose in 2007.
RELATED: Why your brain can't really tell the difference between Facebook and cocaine addiction
"When I got out of rehab I needed to lose weight [he weighed around 104kg during his addiction], but I also needed to figure out a way to function sober. Unless I was blitzed out of my mind I had trouble sleeping. So I started running," he said.
According to the 42 year old, it was great at first – giving him a natural endorphin high and also helping him sleep. But his addictive nature soon took over.
"It's easy to understand how people replace addiction with exercise. One addiction for another but one that's good for them," he says. (Post continues after gallery.)
"I got an addict's brain and when it came to running, I think I got a little carried away. I became a fucking hamster."
Mathers would run 27km a day on a treadmill – 13.5km in the morning before going to the studio and another 13.5km when he came home.
While he ended up losing over 40 kilograms, it started to do more harm than good as the rapper "started getting OCD" about the amount of calories he "had" to burn.
RELATED: Why you shouldn't believe every before-and-after weight loss photo you see
"I ran to the point where I started to get injured. All the constant pounding from the running began to tear up my hip flexors."
He then discovered at home workout DVDs and started alternating between Shaun T's Insanity workout and running, until it became too much and he gave up running altogether.
"I know a lot of these DVD guys are wacky, but I'm alone in my gym; I need someone on the TV yelling to motivate me," he told Men's Journal.