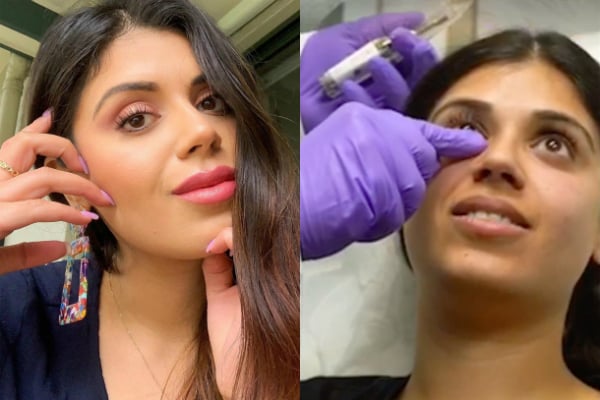 There I was, staring at the ceiling, an electronic needle going into one side of my face, my best friend trying to keep me calm whilst the doctor talked me through what was happening…
But all I could focus on was the deafening buzz that was coming from the 'distractor' next to my ear.
I'm talking about the time I decided to get tear trough filler. In other words, filler injected under my eyes.
Over the last year, I started noticing a sunken appearance in my under eye area. I can remember waking up one day after a solid 12 hours of sleep and asking myself, "Why do I look so tired?" It was only then I started to realise how that area of my face was bothering me and affecting my self confidence.
This brought me to researching and ultimately having tear trough filler, and documenting the entire process. Here's my experience.
 

View this post on Instagram

 
Hang on… what is 'tear trough filler'?
Tear trough filler, more commonly referred to as under eye filler, is treatment where a hyaluronic acid-based filler is injected into the tear trough, the area that sits below the lower eyelid and above the cheek (known as the periorbital area).
Tear trough filler is designed to treat volume loss in this area, which can depress as you grow older. In many people, the sunken appearance of the tear trough is a genetic predisposition that can become more noticeable with age.
Is getting tear trough filler safe?
Done correctly by a reputable doctor, the tear trough filler procedure itself is safe. But as with anything in life (especially times that involve needles being poked into your face), there are risks of complications if you aren't treated by an experienced professional.