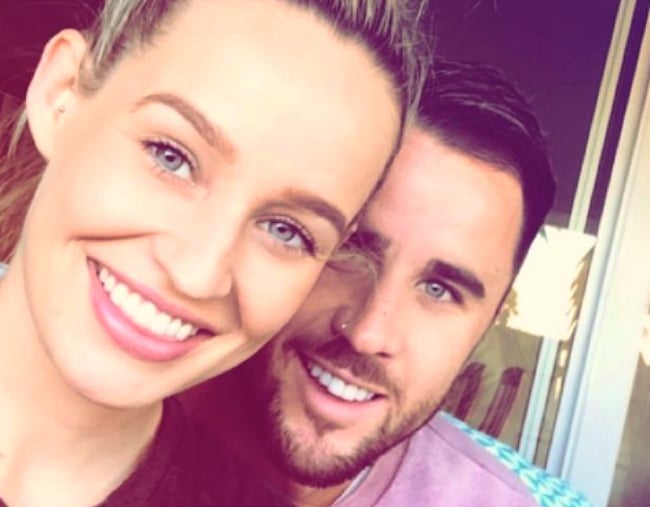 We're only two nights into Bachelor in Paradise and, well, nothing all that exciting has happened.
Yes, we watched all of our favourite contestants awkwardly catch up with Osher and his hair again. Also yes, we have our first 'love square' involving former lovers Florence Moerenhout and Jake Ellis, his best mate Davey Lloyd, and last year's Bachelor villain Leah Costa.
But even that wasn't very dramatic.
So far, the only form of controversy we've been blessed with is that of Brett Moore a.k.a the guy who said two words on Sophie Monk's season of The Bachelorette and his girlfriend.
Yes, his girlfriend.
We've already established 29-year-old Brett is indeed dating fellow Bachelor franchise alum Stephanie Boulton. You might remember her from Matty J's season of The Bachelor. Or you might not, that's okay too.
But did you know said girlfriend will also be making an appearance on Bachelor in Paradise too? As in, coming to the island to find love. Even though… she has love already?
Stephanie was 23 when she appeared on The Bachelor in 2017, and she's a safety administrator from Western Australia. She's described herself as an adrenaline junkie, and said her turn-offs include "someone who is full of self-importance", according to ELLE.
So it makes us wonder what the hell she's doing with Brett.
On Monday night's episode of Bachelor In Paradise, Brett was grilled by fellow contestant Tara Pavlovic – who is actually friends with his girlfriend – about his relationship status.
And that's when he looked Tara directly in the eyes and lied about his relationship, saying it didn't count because it wasn't "Facebook official". Um, what?!
"I have been seeing Steph, yeah, for the past year. Is it Facebook official? No. So what do you want?" he said.
Maybe for you to admit you have a damn girlfriend, Brett! Tara confirmed Steph "really likes" Brett, who again said that "in this day and age" if it ain't on Facebook it's not real love. WHAT?
They are however all over Instagram together. Brett has sneakily made his account private, but Steph's account is full of romantic holiday snaps of the pair looking, well, like a couple.
Last week, Florence confirmed to Now to Love that both Brett and Stephanie were going on the show.
"Brett got the call to appear on the show and he said yes, then Stephanie got the call and said yes too," she said.
"They both agreed they weren't officially together and agreed to do it to see what happens. It's not fair to other people."
Struggling to remember who all the Bachelor in Paradise contestants are? We put together a handy throwback video to help you out. Post continues after video.
Not judging or anything, we feel like this is quite strange.
Considering Tara Pavlovic is reportedly also in a relationship, and Jake and Flo have hooked up before, is it weird that a bunch of these contestants have either been together before, are currently together or aren't single at all?
Or, in Brett and Stephanie's and Jake and Flo's cases, it could be a brilliant strategy play to win the show. But if you win Bachelor in Paradise – a show supposedly about finding love – with someone you're already dating, is it still winning?
We're not sure either.
Watching Bachelor in Paradise? Keep up with every BIP on our Bachelor in Paradise page. You can also catch up on the latest recaps below:
The Twins recap Bachelor in Paradise: It's like schoolies. But dirtier.
Want to win some skin care goodies? Like to have your opinion heard? Take our short survey now for your chance to a win a skin care pack.