1. Oh… one of the Bachelor in Paradise contestants already has a girlfriend. We feel like that's against the rules?

Ummm, this might require a bit of a spoiler alert, but apparently Bachelor in Paradise contestant Brett Moore is already in a relationship – with a familiar Bachelor-franchise face.
Stephanie Boulton appeared on Matty J's season of The Bachelor, and has been pictured all over Instagram with Brett. Which would be FINE. Except that he's confirmed to be a contestant on Bachelor in Paradise.
Fellow contestant Florence Moerenhout spilled the beans to Now to Love and said Brett told her that he was "seeing someone outside of Paradise, but it wasn't that serious."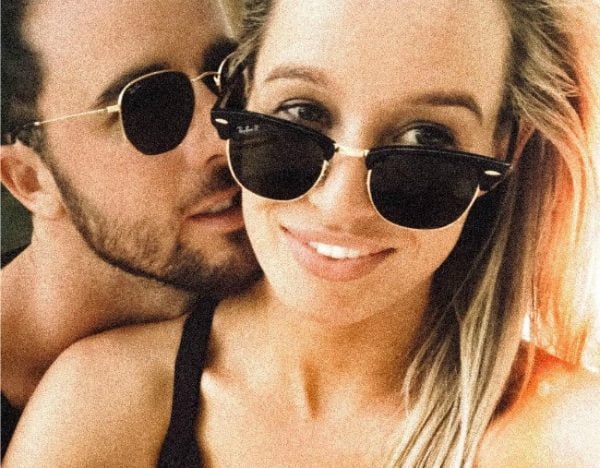 "Brett got the call to appear on the show and he said yes, then Stephanie got the call and said yes too," she said.
"They both agreed they weren't officially together and agreed to do it to see what happens. It's not fair to other people."
There's also a fair dose of social media proof to back up their rather unsubtle, tropical fling. First we had Steph on a hammock gazing into Brett's eyes from December of last year, followed by a rather cuddly, and grainy couple shot from early February (see above).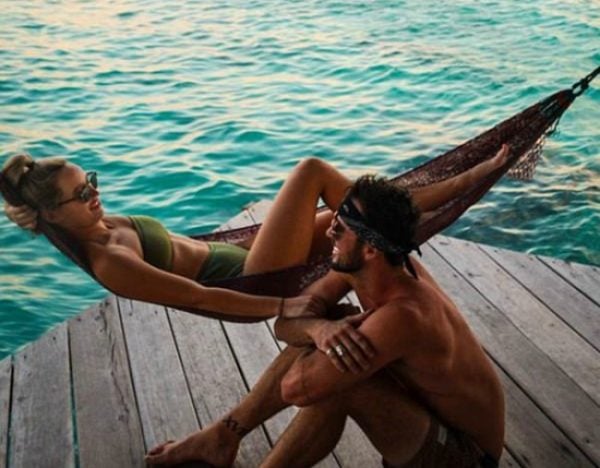 According to what we know so far, filming for the show began in November. So were they dating before, and they're still dating? Did Brett just want a holiday in paradise (fair enough)? Are they both going to be in paradise, as, like, a completely normal couple?
WHAT THE HELL.
T minus three hours... Bachelor in Paradise is coming to Australia for the first time and we are EXCITED. Post continues after audio.

2. Fans instantly spot Kim Kardashian's awkward photoshop fail.

Fans are convinced that Kim Kardashian shared a very photoshopped picture of herself on Instagram on Sunday.
While the 37-year-old looks relatively normal in the photo, it's the car in the background which gives her game away.
To the right of Kim, in the background, is a black car, which looks like it's been in a garbage compressor. Clearly it hasn't, and this is just another case of the Kardashians working their photoshop wizardry.
Fans were quick to call out the reality star on the gaffe, but instead of deleting the now-embarrassing photo like most other normal human beings would, Kim just closed off the comments on her photo.
Because, eh, who cares if cars don't really look like cars anymore?
No biggie.
3. Former Miss Universe Australia marries in ridiculously beautiful gown.

Former Miss Universe Australia pageant queen, Monika Radulovic, married her longtime fiance, artist Alesandro Ljubicic, in a ceremony in Sydney on Saturday.
According to Daily Mail, the pair held an "intimate ceremony" at Miramare Gardens.
The 27-year-old bride looked stunning in a strapless white gown with a fitted bodice and flowing skirt, which was embellished with lace flowers.
She also wore a long veil embroidered with pink and white lace flowers, which she later swapped for a flower crown on her head.
Alesandro shared photos from their wedding on Instagram, calling it "hands down the best day of my life".
It had been a long slog to the altar for the couple, who got engaged back in 2014.
4. Sarah Roza dropped some hints about her break up with Telv. Or did she?
As you're probably already aware, everyone's favourite "fake-married on a TV show" couple are done. Sarah Roza and Telv Williams are... over.
Now Sarah has posted a comment on her best friend's Instagram account and it has people thinking more went on during their break up.
Sarah's mate, celebrity medium Harry T, posted: "Tonight my dear friend @sarahjaneroza opened her heart to everyone online. Her relationship may have come to an end, however the love that she put into it continues to shine around us all.
"Sarah went above and beyond to make it work, but life sometimes has other plans for us. I love you Sarah and am so proud to call you one of my best friends. Your Prince Charming is still out there waiting for you."
Sarah then commented, "Ohhhh my darling Hazza... you are always there for me, thank you xx".
"You know just how tough it's been for me for ages... I would not wish what happened to me on my worst enemy, it's just heartbreaking but I'm sure my heart will recover & love again one day xx."
The comment has some thinking that maybe the break up wasn't as amicable as we initially thought.
"Stop it!!! What da f**k did telv do?? Tbh I always thought he wasn't enough for you," one person commented.
"I just feel like telv had a few diff sides to him, you'll be just fine Sarah," added someone else.
While Sarah's comment could have been referring to her relationship with Telv, it could also be referring to everything the 38-year-old has gone through in recent years.
Before going on the show, the beauty expert miscarried twins after she was abandoned by her long-term partner.

5. There's something odd about Meghan Markle's name on her wedding invitation.

The seating arrangements have been made. The venue is booked. The cake is well on its way to being made.
The bonbonnières have been ordered (personally, we're hoping each and every guest gets to take home a corgi pup) and as of Friday, the invites have officially been printed and sent.
However, people have noticed something a lil' odd about Meghan Markle's name on the invite.
On the invitation, she's referred to as 'Ms Meghan Markle', despite most of the official correspondence about the royal wedding referring to her by her full name, Rachel Meghan Markle.
Despite some suggesting the shortening of Meghan and Harry's names was a way for the royal family to save money on the invitations (with a wedding taking place at Windsor Castle and with two separate receptions, we don't think that's an issue), there may be a much simpler explanation for the more colloquial uses of their names.
Perhaps this may be Prince Harry and Meghan's way of putting their own, less traditional spin on the big day. After all, they've already confirmed they're ditching the traditional royal wedding fruitcake in favour of a more 'modern' flavour combo, and Meghan is expected to be walked down the aisle by her mother instead of her dad.
While it's certainly no "Come round to Lizzie's and enjoy a barbie to celebrate the wedding of Hazza and Megs", it's as casual as they could probably get.
But there's something else that's catching people's eyes when it comes to Meghan's name on the invitations, and it's a detail that sets her wedding invites apart from her soon-to-be sister-in-law Kate Middleton.
As in other official correspondence, she's referred to as a 'Ms' instead of a 'Miss'. According to Town and Country Magazine, Meghan is unable to be called a 'Miss' on the invite as she has already been married once before.
So there you have it. We personally can't wait to "enjoy a barbie to celebrate the wedding of Hazza and Megs".
Read the full story here.