1. The compelling evidence that Troy and Carly from Married at First Sight are expecting a baby.
It's only been a few weeks since we said goodbye to Married at First Sight drama and hellloooo to Bachelor in Paradise and My Kitchen Rules drama.
But not content with staying off our radars, there's some compelling evidence MAFS couple Troy Delmege and Carly Bowyer are expecting a baby.
Here it is – NW magazine reports the couple were seen shopping at a baby boutique last week called Little Darcy in South Melbourne.
According to an 'onlooker', Troy was "running around the store pretty much shouting about how he can't wait to become a dad" and cradling Carly's stomach.
This information is quite intriguing. On the other hand, they could be trolling us.
Guess we'll find out in a couple of months.
2. The photo of Jasmine Yarbrough everyone is talking about.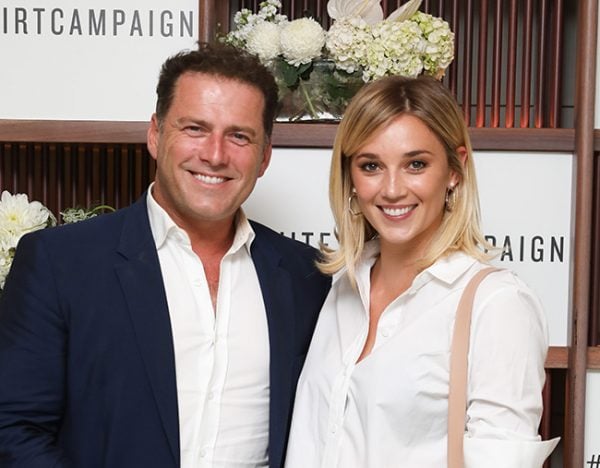 Karl Stefanovic and Jasmine Yarbrough's relationship has been subject to much controversy and speculation ever since their relationship became public in early 2017.
The latest rumour? That Yarbrough - the Sydney based shoe-designer - is pregnant, which would be Stefanovic's fourth child.
With absolutely no evidence to support such claim, on-lookers are basically looking for any hints whatsoever.
Today photos surfaced of Yarbrough at a lunch, where she smelt a glass of white wine but - crucially - did not actually drink the glass of suav blanc.
Uh-huh! She must be pregnant...
3. Oh goodness. Tiffiny Hall's mum is just as ripped as she is.
Tiffiny Hall, founder of TIFFXO and former Biggest Loser trainer, posted two photos on her Instagram of her and her mum in their swimmers and, um, wow...
"She's my #fitspo and has shown me the #happyfit way all my life", Tiffiny said in her caption.
"She's 61, a Nanna Ninja and so so fit (and happy!)"
The two are currently holidayin' in Bali and by the looks of it seem quite content.
4. Justin from Married at First Sight has been creepin' on Davina's Instagram.
We're not in the business of speculating, but we're going to do a tiny bit of a speculate.
Something is going on between two ex-Married at First Sight contestants, a story which we have seen repeated over and over again.
But this time it's Davina Rankin, the social influencer who a little bit cheated on her fake husband, and Justin Fischer, the 'millionaire' who took his fake wife to see his boat that didn't exist.
Last night, Davina posted a photo to her Instagram story, with the text, "You bored Justin haha bring on the headlines."
Well. Here. We. Are.
The picture was a screenshot of Justin having liked nine of Davina's posts in a row which is potentially the most full on thing we've ever seen.
Why is he stalking Davina on Instagram? Does he love her? Are they going to get married? When are their babies due?
So many questions, so little time.
5. Ariana Grande lowers ponytail for the first time in five years. Internet explodes.

Ariana Grande's high ponytail is what one would call a 'signature look'.
It's height, length and volume are the stuff of legends.
Rarely seen without one perfectly plonked on the top of her head, the 24-year-old singer has been wearing a high ponytail – or a half-up high ponytail – for the last five years.
But in very important celebrity hair news you don't need to know but want to anyway, the Grammy winner has lowered her ponytail.
Put simply, Ariana shared photos on her Twitter and Instagram accounts this week of the cover of her new single 'No Tears Left To Cry' wearing her hair in a low ponytail. A platinum blonde low ponytail.
ʎɐpᴉɹɟ pic.twitter.com/kmdch8ddeA

— Ariana Grande (@ArianaGrande) April 19, 2018
For more photos of Ariana's new low ponytail and how the internet reacted, head to our full story of how the world is not coping with Ariana Grande's new hair here.
Speaking of fluff, catch the latest Bachelor in Paradise gossip on our Bach Chat podcast below.