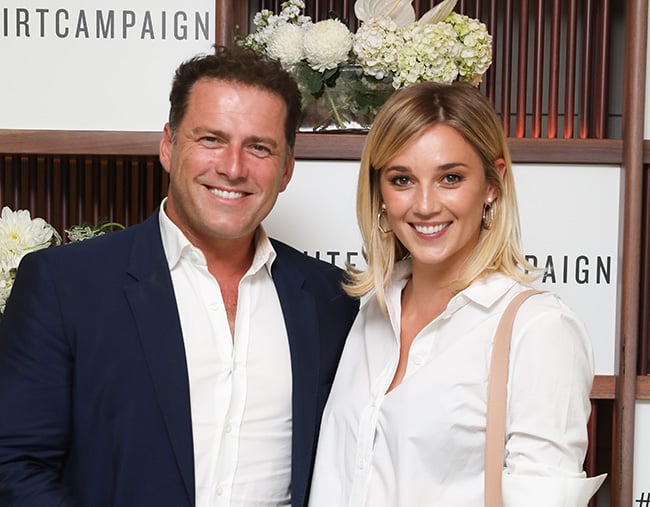 Sydney fashion designer Jasmine Yarbrough has been in the news recently for reasons that have nothing to do with her shoe line, Mara & Mine.
She and Channel Nine Today show host Karl Stefanovic are engaged to be married – having had a commitment ceremony at the beginning of this year – and 'controversy' is a word that's followed Karl since he announced he was leaving his wife of 21 years in September 2016.
There was the shock of the announcement. The questions about the pair's three children. The blossoming of a relationship between Karl, 43, and Jasmine – who is nine years his junior.
And most recently, of course, the Uber conversation scandal that saw snippets of a private conversation between Karl and his brother Peter (also a Channel Nine presenter) leaked to the press.
Through all this Jasmine has remained relatively quiet.
She stepped out for the first time wearing an engagement ring in February, attending a Harper's Bazaar Australia's 20th anniversary edition party. But she didn't address her relationship or the rock on her finger, instead she briefly smiled for the cameras and moved on.
Certainly, images of Karl are spotted through Jasmine's Instagram feed but it is only now – in an interview with Grazia – that the 34-year-old designer has given us the first, real, insight into her relationship with the at-times-embattled media presenter.
LISTEN: Karl Stefanovic and Jasmine Yarbrough had a commitment ceremony. Here's why.
She doesn't use Karl's name, first of all. Instead Jasmine refers to him throughout the interview as "my partner" – so determinedly, it must be intentional.
"It's a rush during the week, so on the weekend my partner and I love to head further north to Whale Beach and stay with friends," she told Grazia.
She watches Karl on Today every weekday and describes her morning shower as her "one indulgence".
"I wake around 7 o'clock on weekdays. I make myself hot water with lemon and put on the Today show to get my fix of news. Then I have a coffee and a slice of toast with avocado," she said.
"My one indulgence is a long shower every morning. It's truly the only part of the day when I get to be by myself away from phones and emails. It's valuable thinking time before I get going and I absolutely love it. As soon as the shower's finished I'm focused on what needs to be done for the day."