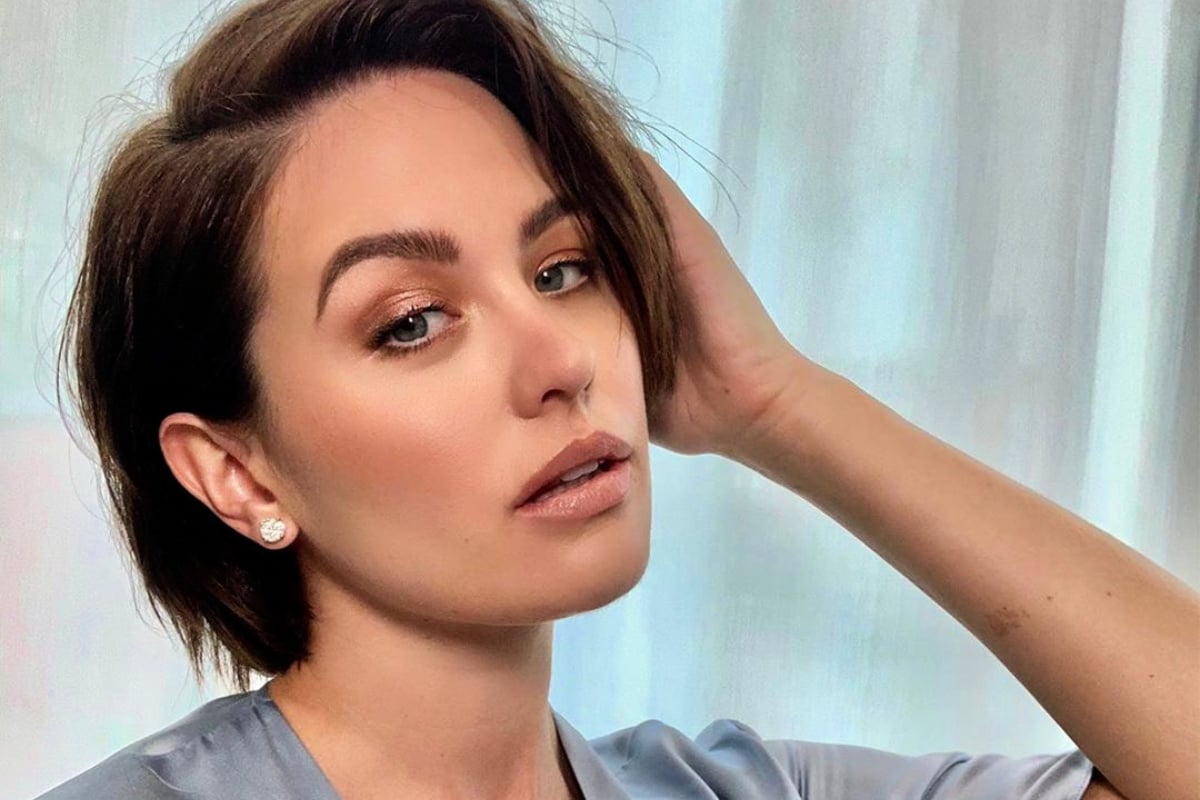 What I Put On My Face is Mamamia's celebrity beauty series that goes inside the beauty cabinets of some of Australia's most influential women. From what skincare products they use to their go-to makeup tips, it's a pervy look at exactly what they put on their face. And body. And hair. You get the idea.
This week, we speak to model, TV presenter, former Miss Universe Australia and author Jesinta Franklin. At the time of publishing, Jesinta is pregnant with her first child with husband and AFL player Buddy Franklin – she speaks candidly about how growing a small human in her stomach has changed her body and her beauty routine. Plus, the Olay ambassador shares a bunch of clever makeup tips she's learnt over the years spent in the chairs of professional makeup artists. Enjoy!
You can listen to Jesinta Franklin's full interview with Amy Clark on the You Beauty podcast below. Post continues below audio.

*****
Jesinta Franklin's skincare routine.
I would say my skin is combination – it can get a little bit dry when there's a change of season going from summer to winter but it can be oily too. I've definitely noticed some changes in my skin during pregnancy. I don't know if it's normal, but I'm very, very shiny. I feel really, really lucky I haven't had breakouts because I know hormones can play havoc with your skin. I've had bad skin in the past, so I know it does make you feel good, having clear, radiant, dewy skin.
I've stuck to a really good skincare routine for years. Nothing too crazy and nothing that takes up too much time because I don't want to spend that much time in the bathroom. Especially now while I'm pregnant, I'm loving using the Olay Regenerist Day and Night Creams, which I use in combination with the Regenerist Luminous Tone Perfecting Treatment Serum. It's great for pigmentation. I do have a bit of pigmentation on the side of my cheek, but I can cover it with concealer.
An all-time favourite product I've been using since forever is the Total Effects Foam Cleanser. It gives you that really good, deep, foamy cleanse and I use it as a double cleanser instead of exfoliation. I love coconut oil too because it's got so many uses – you can cook with it, use it to take makeup off, make a hair mask or a body scrub or put on your body as a moisturiser. I love the new Olay mists, I have been using the Calming Mist after applying my makeup each day to refresh and set my face. They're amazing for providing instant hydration with just one spray, especially as I'm on my way out the door!
 

View this post on Instagram