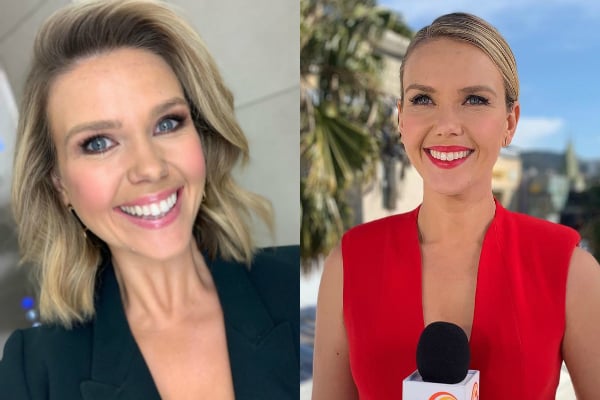 What I Put On My Face is Mamamia's new celebrity beauty series that goes inside the beauty cabinets of some of Australia's most influential women. From what skincare products they use to their go-to makeup tips, it's a pervy look at exactly what they put on their face. And body. And hair. You get the idea.
This week, we speak to Edwina Bartholomew. There's a good chance you've been watching Eddie on the telly for years, as the journalist is a long-standing presenter on Channel 7's Sunrise. At the time of publishing, the 36-year-old is pregnant with her first child, and chatted all about how growing a small human has changed her beauty routine. Enjoy!
Side note: You can listen to Eddie chat about her beauty routine on the You Beauty podcast below. Post continues after audio.
Edwina Bartholomew's skincare routine.
My skin has changed a lot since preparing to start a family and actually being pregnant. I got a lot of pigmentation, strangely, after coming off contraception, which is weird according to the internet. Normally you get it as all the hormones start pumping through your body with pregnancy, so it was a shock. The way I found out about it was quite… bad.
I was at work, reading the news one day and under those TV lights, everything shows up. A viewer wrote in and asked if I had a moustache… I have pigmentation on my forehead, but I hadn't noticed it was on my upper lip too! So I said 'thanks for the feedback'. But genuinely, thank you for the feedback (!!) because I didn't know. I expected my pigmentation to get a lot worse during pregnancy, but if anything, it's stayed the same.