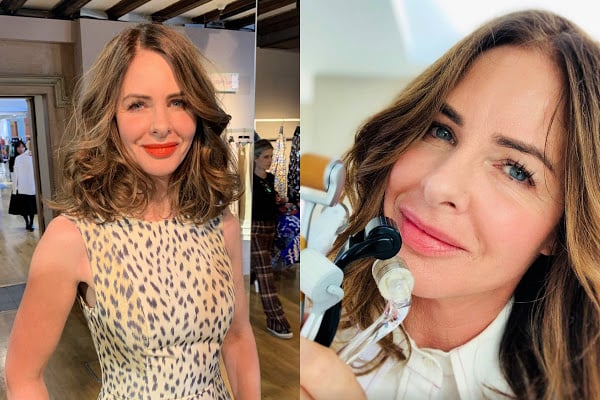 What I Put On My Face is Mamamia's celebrity beauty series that goes inside the beauty cabinets of some of Australia's most influential people. From what skincare products they use to their go-to makeup tips, it's a pervy look at exactly what they put on their face. And body. And hair. You get the idea.
This week, we speak to Trinny Woodall. Many of us would've spent hours watching the iconic British duo Trinny and Susannah give out the realest fashion advice on telly with their noughties TV show 'What Not To Wear'. Aside from being the original fashion makeover queen, the 55-year-old is also big in the beauty world with her makeup brand TRINNY LONDON. Trinny shares her extensive (and expensive) skincare routine and her philosophies on what makes women feel good about themselves. Enjoy!
To listen to Trinny's interview with Mia Freedman on the No Filter podcast, get it in your ears below. Post continues after audio.
Trinny Woodall's skincare routine.
The 80s wasn't my best decade. It was my fake tan era. I had a lot of terrible acne from the ages of 13-30 and then I used fake tan to cover it up. It was like a pizza face, it was terrible. I made so many beauty mistakes but I had an enlightening moment when I was a teenager. My mother is Scottish and the most she's ever put on her face is a bit of water, but I went to stay with my godmother in New York and she took me to a department store and Clinque had just launched their three-step routine.
At that point, I had nothing for my skin. My mother only ever gave me Nivea cream for everything. That day was my intro to knowing there is another way. It was so exciting. And every decade, there's been more products, more choice, more difficulty to work out what suits you and it's about refinement of choice for me. My skin now has got such an unbelievable resilience to anything. My skin can take anything and I feel that my skincare routine is layers and layers of active ingredients. I have a rule that I will try something for a month or two before I talk about it. A lot of my Secret Sevens [Instagram beauty series] are my favourite products.
 

View this post on Instagram