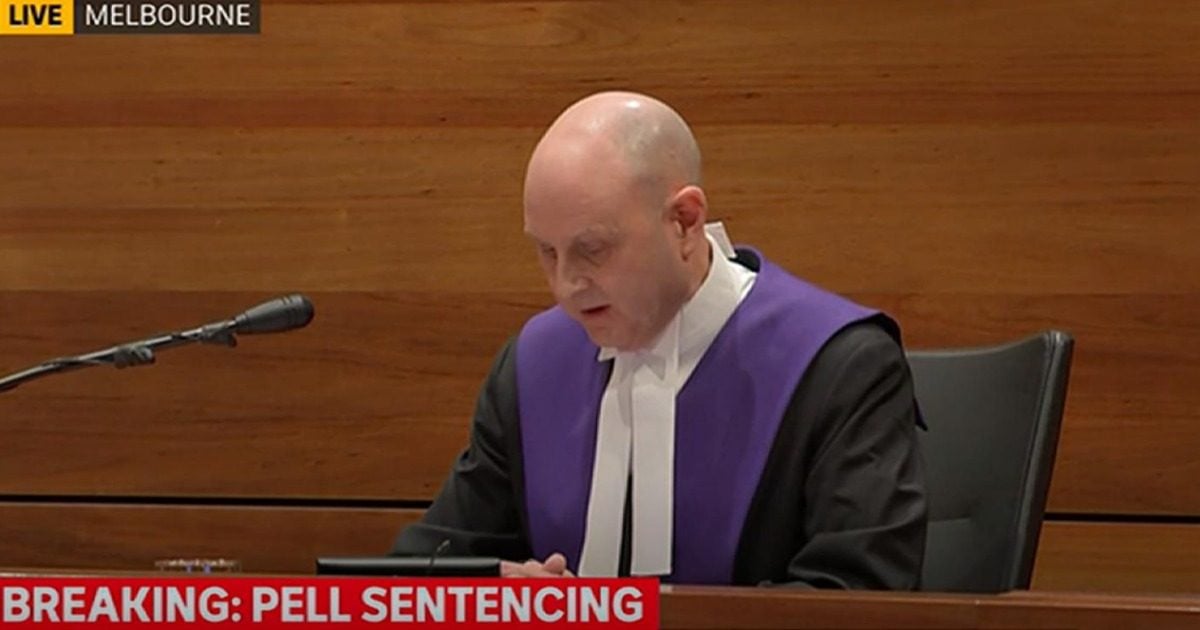 The following contains details of sexual assault which may be distressing. For 24-hour support, please call 1800 RESPECT. 
"The offending which the jury has found you have engaged in was, in any view, breathtakingly arrogant."
The world has just watched Melbourne County Chief Judge Peter Kidd as he sentenced paedophile George Pell via live-stream to six years imprisonment for the sexual abuse of two young boys, with a non-parole period of three years eight months.
Those inside the court room have described Pell holding his hands behind his back, with no visible reaction as he learnt his fate.
Listen to Mia Freedman, Holly Wainwright & Jessie Stephens unpack the Pell verdict on Mamamia Out Loud… Post continues after audio. 

Judge Kidd started his more than an hour long sentencing by choosing to give both Pell and the watching audience, of which he knew was global, some context.
"I am mindful I am sentencing you in a unique context. It's important I address that.
"It is vital you and the community understand this. You are not to be made a scapegoat for the Catholic church's failings. You have not been convicted of such failings.
"So to other victims of abuse, that might be in court, or listening, this sentence is not a vindication of your trauma. He hasn't been committed of wrongs against you. He can't be punished for that. I understand you seek justice, but it has to be done in the context of a court of law.
"I am not sitting in judgement of the Catholic religion or the Catholic church. It is you, George Pell, who falls to be sentenced," said Judge Kidd.
"We have witnessed in the court and in the community a witch hunt. I condemn that. It's got nothing to do with justice. We act as a bulwark against that behaviour.
"While I must punish you, you are entitled to the balance and steady hand of justice," he continued.
Judge Kidd then went on to outline the five sexual abuse charges of which Pell was found guilty of by a unanimous jury in December.
He faces one charge of sexually penetrating a child and four of committing an indecent act with children.
In 1996, Pell abused two 13-year-old choirboys in the cathedral sacristy after celebrating one of his first Sunday masses as Archbishop at St Patrick's cathedral in Melbourne.
He caught the boys drinking holy wine, and told them something to the effect of "you're in trouble."