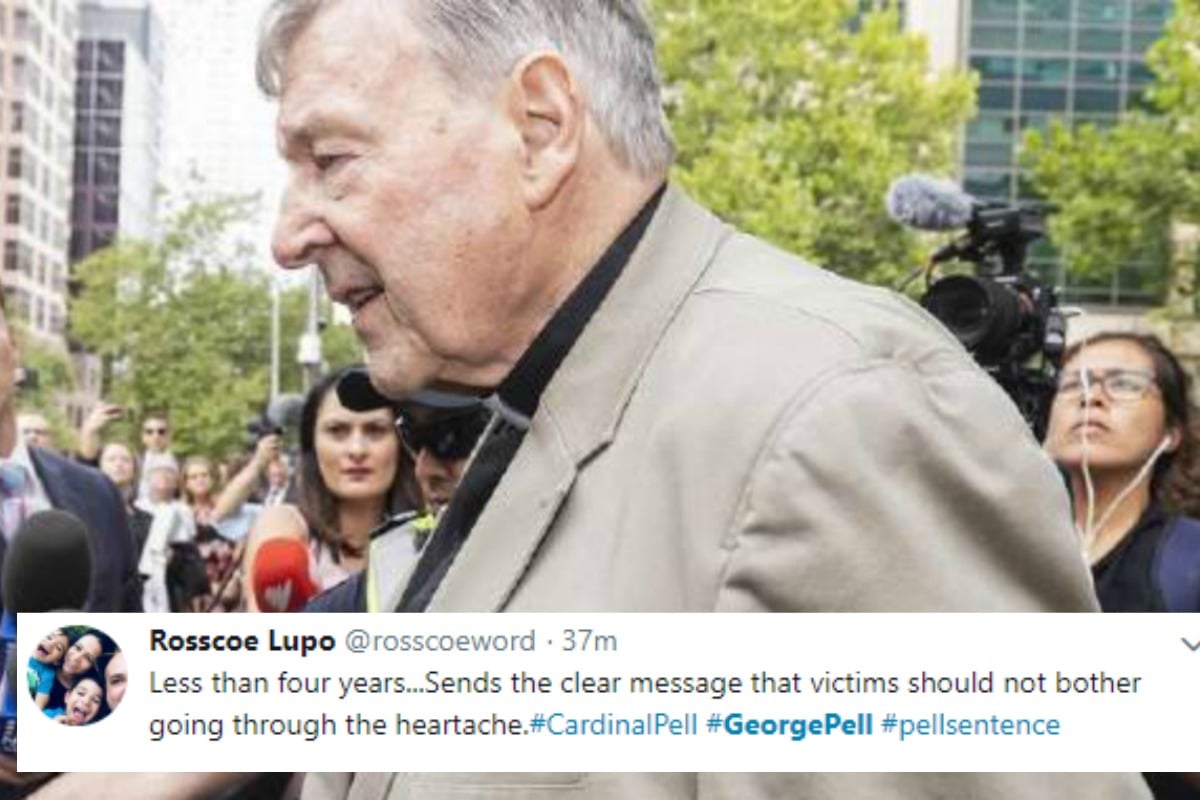 Just after 11am on Wednesday morning, Cardinal George Pell was sentenced to six years imprisonment, with a non-parole period of three years and eight months.
Pell's sentencing for sexually abusing two choirboys in 1996 was broadcast Australia-wide.
The maximum penalty for Pell's crimes was 10 years, yet Chief Justice Peter Kidd said this was "not the diminutive factor of my sentence, nor is the maximum penalty the starting point for my sentencing exercise".
Listen to Mia Freedman, Holly Wainwright & Jessie Stephens unpack the Pell verdict on Mamamia Out Loud… Post continues after audio. 

Chief Judge Peter Kidd said Pell's age – as a 77-year-old – as well as his "good character" was a factor in his sentencing.
The sentence, however, garnered strong reactions from the public, with many sharing their sense that six years, or what will likely be less than four, isn't enough.
It is absolutely disgusting that #GeorgePell only got 6 years with the chance of parole in 3 years and 18 months. He is an absolutely horrible man who has shown no remorse or recognition of what he has done. How can this be? Nobody should EVER go through what they went through.

— Dominic Clarke (@dclar181) March 13, 2019
George Pell's jail sentence seems like a slap on the wrist compared to what the victims had to endure over the years. I hope he leaves prison in a box! #GeorgePell

— Joy Taylor (@Gojoyjet) March 13, 2019