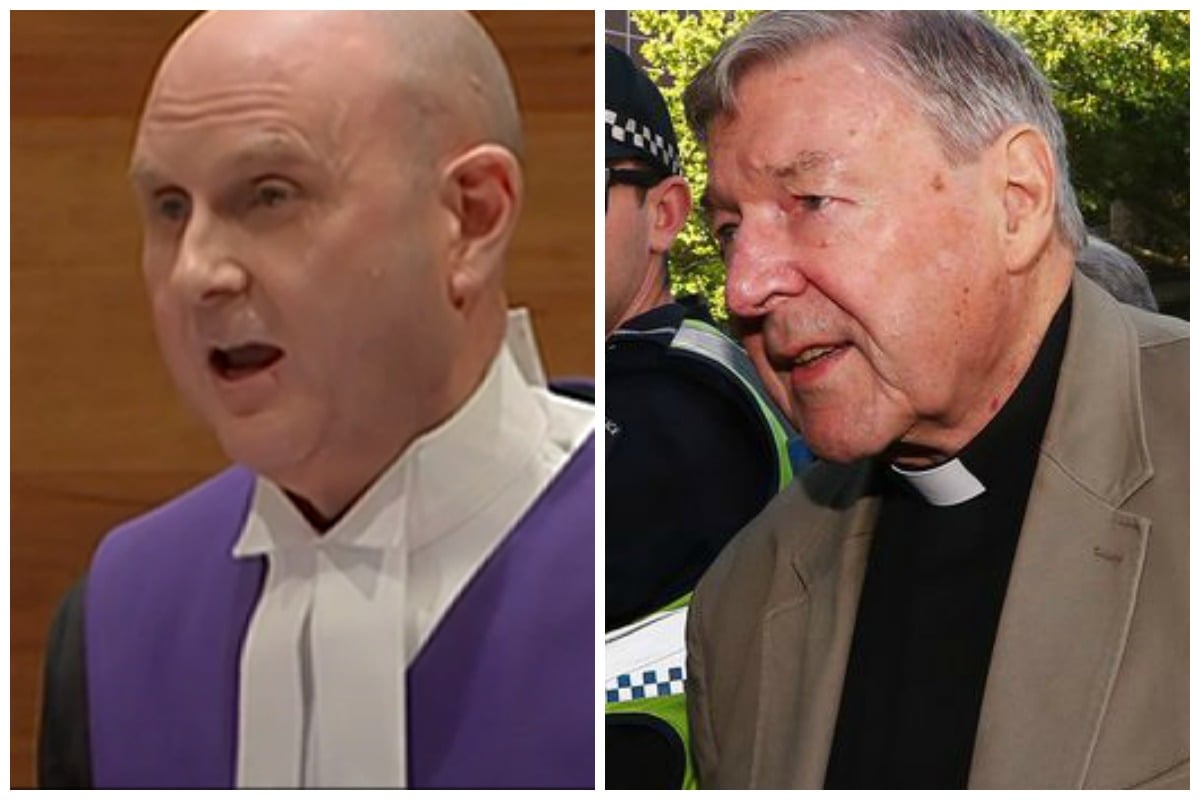 Just after 11am on Wednesday morning, Cardinal George Pell was sentenced to six years imprisonment, with a non-parole period of three years and eight months.
 Pell's sentencing for sexually abusing two choirboys in 1996 was broadcast Australia-wide.
The maximum penalty for Pell's crimes was 10 years, yet Chief Justice Peter Kidd said this was "not the diminutive factor of my sentence, nor is the maximum penalty the starting point for my sentencing exercise".
Chief Judge Peter Kidd said Pell's age – as a 77-year-old – was a factor in his sentencing.
"Of some real importance in my sentencing exercise is the fact that each year you spend in custody will represent a substantial portion of your remaining life expectancy," he said.
"I am conscious that the term of imprisonment, which I am about to impose upon you, carries with it a real, as distinct from theoretical, possibility that you may not live to be released from prison.
"Facing jail at your age in these circumstances must be an awful state of affairs for you. You are also clearly someone with some significant enough health issues.
Listen to Mia Freedman, Holly Wainwright & Jessie Stephens unpack the Pell verdict on Mamamia Out Loud… Post continues after audio. 

"I have no doubt that you will experience some stress while in custody. I will make allowance for these matters."
The character references provided for Pell were also taken into account.
"In addition to not having any prior convictions, I am satisfied that the evidence before me is that you are someone who has been, in the last 22 years, since the offending, of otherwise good character.
"I sentence you upon the basis that these episodes, viewed together, constitute isolated offending. I make substantial allowance for your good character and otherwise blameless life."
A disgraced Pell has spent two-weeks behind bars, after being found guilty by a jury in December of five child sex offences. He was initially bailed so he could get knee surgery in Sydney.
Pell is the highest ranking Catholic to be convicted of child sexual abuse, and due to the global interest in the case the court has allowed cameras inside for Chief Judge Peter Kidd's remarks. However the camera will only show Judge Kidd, not Pell.
The maximum jail term for his crimes is 10 years.
Pell abused the two 13-year-old boys after a Sunday mass in 1996, after being installed as the Archbishop of Melbourne.