Like many women, Emma-Jane Hughes and Ashleigh Hill spent far too many summers struggling to find a bikini that fitted their big boobs (30G & 30DD).
A bottle of bubbly eventually persuaded them to do something about it.
"Lilly & Lime was born at a hens night… of course. Emma and I have both struggled since our teens to find, firstly, swimwear that fits and secondly, styles and prints that are in fashion and we love," After a few champagnes we decided 'let's do it'," they told Mamamia.
Catering to D cups right through to HH, Lilly and Lime offers mix and match bikinis that support bigger boobs AND on-trend designs and styles.
Designed in Australia, they have a whole range of options and a handy fitting guide on their website to make picking the right size (always risky when online shopping) super easy.
That said, the pair soon discovered just why finding a good bikini when you do have a bigger bust had been so difficult.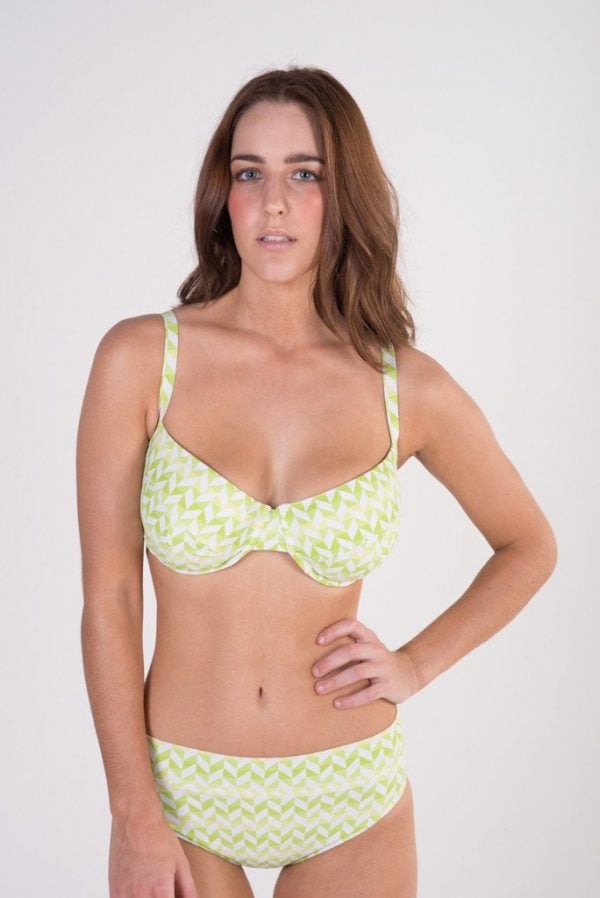 "We were really naive when we first started and thought it would only take a few months to develop the patterns," they said.
"It took us years of working with an expert and so many sample rounds with our factory to get the fit perfect. It is really technical developing a structure that can hold up the weight of a bigger bust and still be comfortable.
"We now realise why there aren't many brands that venture in this direction."
That wasn't the only hurdle for them to get over.
"Time management, cash flow, four babies between us… where do we stop?," they told Mamamia.
Listen: The sunscreen pact every woman needs to make this summer. Post continues after audio.

"On a serious note, we spend majority of our time on logistics and customer service that makes it really difficult to be forward thinking with planning our next season, and also strategy while dealing with the day to day issues."
Lilly and Lime work with a pattern maker (and friend) located in Brisbane while the garments are made in a small factory in China who the pair have built a relationship with over a few years.
"Support is key in the big bust department and making 'the girls' look good - 'up and in' in all the right places!," Ash says.
"When we have a style in mind we have to think very carefully of how supportive it can be for the larger cup sizes - we want to push the boundaries with our size range as there aren't many D cup and up swimwear brands out there, and the current ones tend to stop majority of their styles at a G cup."
Feedback has already been great.
"One of our favourite things is when we get a mum, aunt or grandmother buying for a young teenage girl," they said.
"We were those girls once and had no options, and now we are providing something for that teenage girl to wear around her friends that she feels confident and happy in, it's an awesome feeling."
While you're already spoilt for choice, there's still plenty more to come.
"We're planning more styles (one pieces, bikini tops and bottoms), more prints and who knows maybe some beach accessories?"
Count us in.