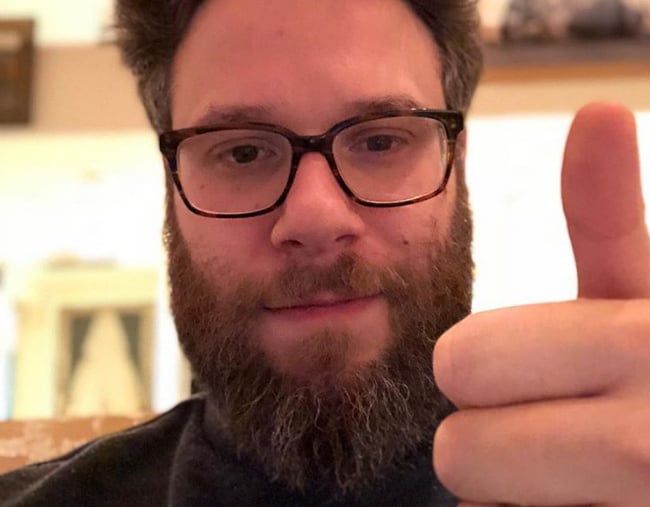 1. In two words, Seth Rogen just summed up what everyone thinks about Ariana Grande and Pete Davidson's engagement.
In case you missed it, a lot of people are talking about the whirlwind romance of singer Ariana Grande and SNL comedian Pete Davidson, who are now engaged after a casual three weeks of dating.
It's full on.
Take this Instagram post, for example.
On Thursday, Pete shared this lovely photo of his fiancee lying on some grass overlooking a body of water, her back arched for an unknown reason.
The couple proceeded to fight over who loves the other one more in the comments, before actor Seth Rogen stepped in to say what we're all thinking.
"Guys seriously," he commented.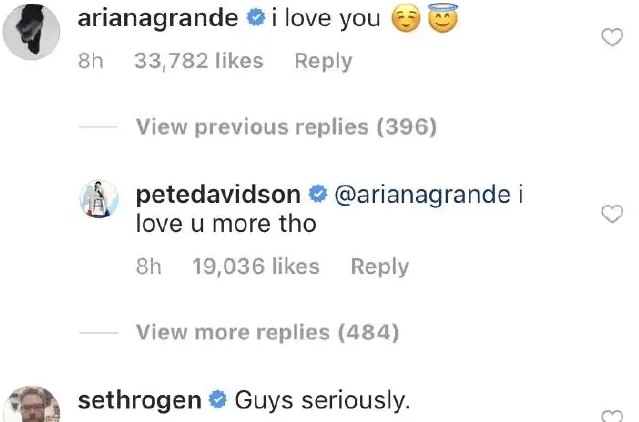 Davidson responded saying, "when ur (sic) getting married to the hottest girl in the world tell me how you'd act," which we guess is a semi-reasonable argument.
But you can't deny Seth has a pretty good point.
2. Former Love Island star Sophie Gradon was found dead. Here's what she said in her devastating final interview.
Sophie Gradon, who was a contestant on Love Island UK in 2016, has passed away overnight at the age 32. She was found dead at her parents' home in Newcastle, England, according to The Sun.
In a devastating final interview from just three months ago, Gradon shared her struggle with online trolls after coming off the show with Radio Aire .
"There would be so many negative comments" the reality star explained. "They are commenting on the way you look, the way you talk. They would come up with an opinion of you on a TV show where they've watched you for 45 minutes.
"And you've probably only been on ten minutes and it's cut down from 24 hours. It was very hard to deal with because you take it like you're being judged. It can really get into your mind and really affect you.
The harsh reality is, it can end up with that person taking their own life. And as you've seen in the media, this is what happens. Can you imagine being responsible for that?"
In September last year and after being relatively absent from the public eye, Sophie tweeted to her followers: "Hi guys, no not dead just battling a little bit of depression. I'll come back I promise x."
Sophie was part of the first same-sex couple on Love Island UK with Katie Salmon.
Katie posted this to her Twitter:
Fly high beautiful so high! :gem::heart: pic.twitter.com/JPrqQgkPqC

— Katie Salmon (@katiesalmon24) June 21, 2018
3. Jesinta Franklin credits a $1.75 product for her ridiculously flawless, glowing skin.
When Jesinta Franklin shares her beauty secrets, we listen with ears wide open; because her skin is always looking impeccably smooth and radiant.
The model, who features in Tigerlily's latest bikini campaign, shared with Popsugar how she gets her skin to be so glowy-looking, explaining that she uses Ayurvedic Soap by Chandrika. The soap retails for just under $2 and can be picked up from About Life, or can be ordered online!
"I always try and stock up on it whenever I see it at About Life, because they don't always have it. It's from India and the ingredients are super simple and it smells incredible" Franklin told the publication.
The soap contains ingredients like coconut oil, orange oil, lime peel oil and a whole lot of other goodness.
BRB, we're bulk ordering this $1.75 product!!
4. Johnny Depp says his loved ones begged him not to marry Amber Heard.
In a revealing Rolling Stone interview, Johnny Depp has opened up about his marriage to Amber Heard.
The 55-year-old actor revealed that his family and friends had reservations about his marriage to the 32-year-old actress.
Some of the Pirates of the Caribbean actor's loved ones begged him not to wed Heard while others insisted that he obtain a prenup. Despite this, Depp did neither.
Depp's refusal to get a prenup affected his relationship with his sister, Christi.
"He cut himself off from the only people looking out for him," a source allegedly said.
In the candid interview, Depp also spoke about his struggles with mental illness, his relationship with his mother and dealing with being blamed for actor River Phoenix's death.
5. The hilarious way Carrie Bickmore hid her pregnancy on The Project.
When The Project host Carrie Bickmore made her pregnancy announcement on Instagram on Thursday, there was one question we all had. For a woman that we're used to seeing on our screen most weeknights, how was it that nobody knew?
It turns out co-host Hamish Macdonald had the same question.
"I want to know though. It's kind of obvious today. It has not been obvious…" he probed.
"We sit at this desk and what I've been doing is slowly over the last few weeks lowering my chair," said Carrie laughing.
As she spoke, something clicked in Hamish's mind:
"Every night this week, they've been saying 'Hamish, can you put your chair down this week?' and I've been like 'what's going on?'"
You can read more about how Carrie hid her pregnancy here.