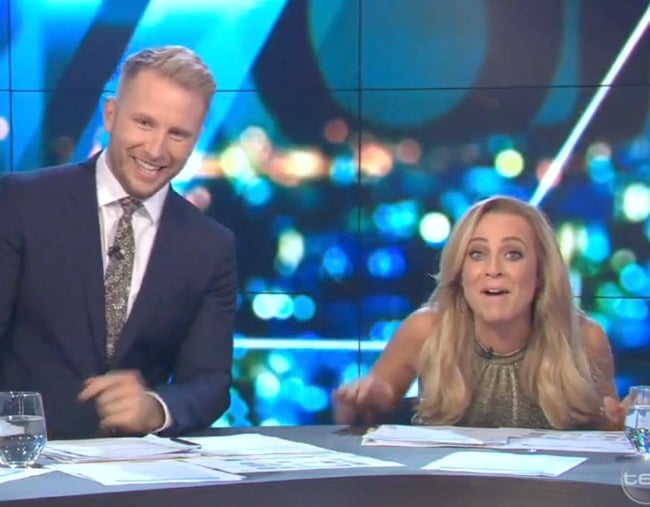 When The Project host Carrie Bickmore made her pregnancy announcement on Instagram on Thursday, there was one question we all had. For a woman that we're used to seeing on our screen most weeknights, how was it that nobody knew?
It turns out co-host Hamish Macdonald had the same question.
"I want to know though. It's kind of obvious today. It has not been obvious…" he probed.
"We sit at this desk and what I've been doing is slowly over the last few weeks lowering my chair," said Carrie laughing.
As she spoke, something clicked in Hamish's mind:
"Every night this week, they've been saying 'Hamish, can you put your chair down this week?' and I've been like 'what's going on?'"
Watch the hilarious moment here:

Carrie also employed a few more 'traditional', bump concealing methods.
Speaking on her Hit Network radio show with Tommy Little, Carrie said that she'd been particular with her styling too.
"It's funny, I've been wearing lots of jackets and jumpers," said Carrie.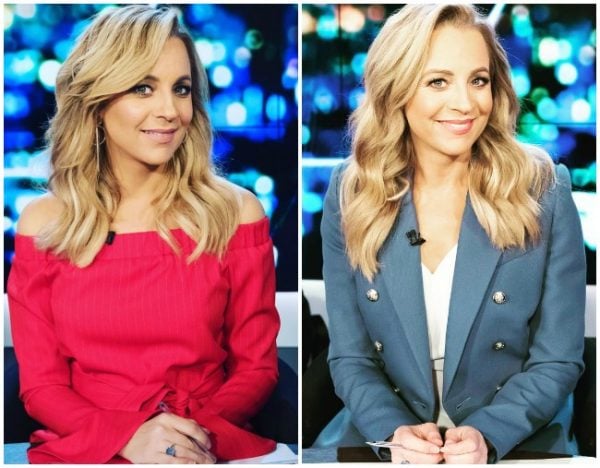 When fellow Project host Pete Helliar remarked that, "Ever since you announced [your pregnancy] it's gone 'pop'," Carrie said that it was because she was finally able to relax her abs.
"My stomach muscles are like... ahhh, finally. I'm no longer sucking in," she said - and we admire her commitment to the cause.
Although fans of the presenter are yet to know the baby's due date or sex, her and husband Chris Walker revealed their baby news in the most adorable way and shared a video of the couple telling their three-year-old daughter Evie with their 10-year-old son Oliver.
Excited and overjoyed, Evie asks her parents if they're "having twins", to which Carrie responded by laughing.
And while her burgeoning baby bump was slightly more noticeable on Thursday night's show underneath her gold dress (if you looked very, very, hard), we're excited to start keeping tabs on her maternity style.